ERP is at the centre of any organization's automated effort. AI works to maximize the value of an ERP by improving process, saving time, and increasing the bottom line of the organization.
AI is a natural partner to ERP.
In fact, according to Gartner, as much as 80% of emerging technologies will have artificial intelligence as a key component. AI allows ERP vendors to improve ERP systems using machine learning and natural-language interfaces. The AI in ERP systems provides actionable data insights enabling companies to improve their operational efficiency.
5 Ways to look at the impact of AI-run ERP systems on logistics companies and the improvement we can expect in the operations.
1 – Improve Productivity with Superior Business Insights
Logistics businesses involve several complex and sometimes long processes. Identify potential risks before-hand to ensure that the correct strategy can be put in place so the business will not be negatively affected.
AI-enabled ERP systems supply real-time data, reinforcement of which can facilitate effective decisions making that can significantly speed up the logistics process.
Data-driven, autonomous supply chains and logistics operations impact business optimization to the level that was previously unimaginable.
2 – Improve Forecasting Capabilities
AI enables organizations to keep track of past concerns, identify repeated trends, and make more accurate predictions about the forthcoming periods. This awareness helps businesses to be prepared and prevent unforeseen circumstances.
3 – Manage massive data
Without the aid of advanced technology, managing massive data is near impossible. Furthermore, mishandling can lead to losses. AI-run ERP systems have capabilities to seamlessly integrate multiple applications and streamline information. Better access to customer data enables logistics providers to personalize services, which improves customer relationship and enhances their experience.
4 – Effective Supplier Relationship Management
AI integrated business software allows organizations to capture information about every supplier, monitor and analyze their performance objectively. The tool generates reports based on the past performance of the suppliers, prices quoted by them, etc. This helps them to formulate strategies and make the right decisions while choosing their suppliers.
5 – Procurement Management Improvement
Freight forwarders often use third party service providers such as co-loaders and shipping lines for their shipments. It's very important to ensure those invoices are paid so your customers goods can be delivered on time and for the booking of space to be confirmed.
Your co-loader is never interested in building your customer relationship – only you have the power to do that. Paying invoices to third party providers can definitely assist with the service offered to your clients. In return if you have an ERP that can detect your 3rd party rate captured vs what is on the system, then this will also allow you auto post your invoices and auto submit for payment.
AI solutions will impact the core of day-to-day business operations
There are a lot of issues that occur in the business, such as transportation delays, remiss monitoring of cargo, fraud, operator mistakes, and some other outdated IT failures. These factors can jeopardize company profits and build up cost pressure. So, to avoid, it is necessary to implement AI in business.
Bas de Baat, an IT industry Advisor, writes in his article on CIO.com that AI will undoubtedly "have a profound impact" on the footprint of ERP solutions in the foreseeable future. He predicts that AI will enable organizations to further optimize their business process operating model. The process includes software applications as well as governance and technology infrastructure.
To keep up with AI, organizations, according to de Baat will have to orchestrate a transformation and revamp their IT strategies. The strategy must recognize and adopt AI into their ERP planning. AI and ERP must be integrated "because they cover the same spectrum."
As organizations find more opportunities to implement machine learning capabilities, they would do well to remember that these implementations are just as, if not more, risky than ERP implementations.
How to Implement AI successfully
Essential milestones:
Plan (Strategy, Team, Testing, Go-Live)
Identify the impact on people, users, customers, stakeholders etc
Set goals and timelines
Speak to stakeholders, customers, and other people in the industry to gain better insights
Be Agile – Keep re-looking into it
Automating 3PLs and Freight Brokers Operations
Freight brokers differentiate from their competition by the level of automation they can do in the workflow and process more shipments in less time. Obviously, this workflow has many repetitive tasks and also tasks that require experience and operational collaboration with carriers, factoring companies, and other services.
Individuals who have seen the industry evolve say that they've never seen this much automation being marketed. That only means, workflow automation will continue to gather momentum.
With the ever increasing power of AI and API integrations, it is not difficult to see a future when freight brokers (and shippers) will be able to use systems or applications powered by virtual agents called "task agents" (TA). These agents can self-modulate, have autonomy, and collaboration capabilities. They can learn using AI from past experiences and decide on their own to trigger a set of actions and react to outside events.
How can SFL assist with your Automation Journey
Book a consultation now and speak to one of our consultant to assist you through your automation journey.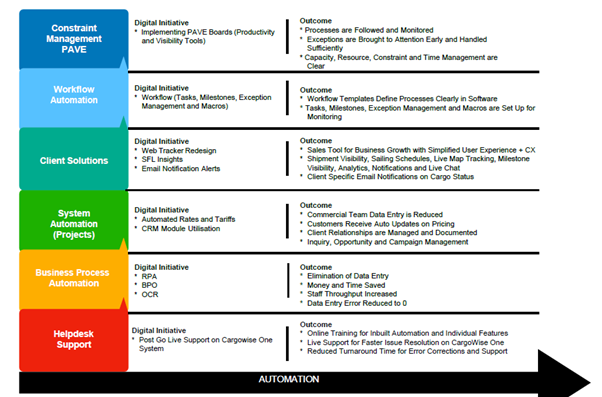 CargoWise has service partners around the world. Find one that is best suited for you and consult with them on your automation journey.
At SFL, we are dedicated to helping our clients implement Cargowise One but also train them throughout the process. We have a range of digital tools that is best suited for your CW1 system and our consultants are experts in simplifying processes within organisations.