Implementing CargoWise means your logistics business will be able to centralize all its business operations, execute complex logistics transactions, and manage freight operations from a single, easy to use platform. Because CargoWise implementation is complex and consists of multiple modules such as Customs, Rates & Tariffs, Warehousing, Freight Forwarding, and Finance etc., the implementation process can be long and daunting – as the structure, location, and function of your business plus the ability of the implementor and your branches and teams to work in tandem is crucial.
As a Platinum Certified CargoWise One service provider, in this article we introduce you to the Business Intelligence tool we offer you along the way right from the get-go. This tool provides visibility, transparency, and accountability of the implementation process – an in-depth view of every single task to a big-picture perspective – for the different stakeholders involved. Below are the Top 5 features of the Business Intelligence (BI) tool we offer you during CargoWise project implementations.
1. Summary View for Steering Committees
Reviews to be performed by steering committees become a breeze due to the capability of the BI tool to scan tons of data and real-time analytics and present them in a summarized fashion via rich visuals and graphics. In addition, the interactive dashboard with slicers and filters to glean in-depth insights makes decision-making for steering committees easier and thus, progress is accelerated.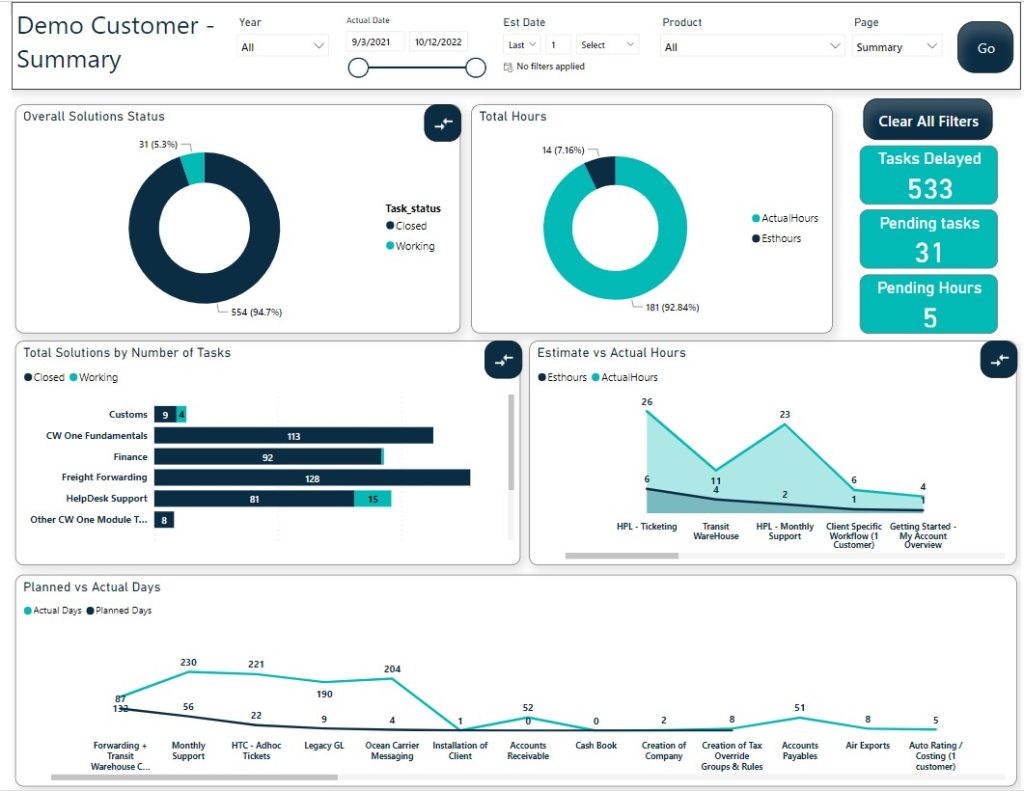 2. Optimized Exception Management
With the multiple levels of categorization available on the Business Intelligence tool such as tasks, modules, projects, and persons in charge – management can identify where the bottlenecks are forming, and focus on addressing them, thus saving time and resources and increasing the efficiency of the project delivery.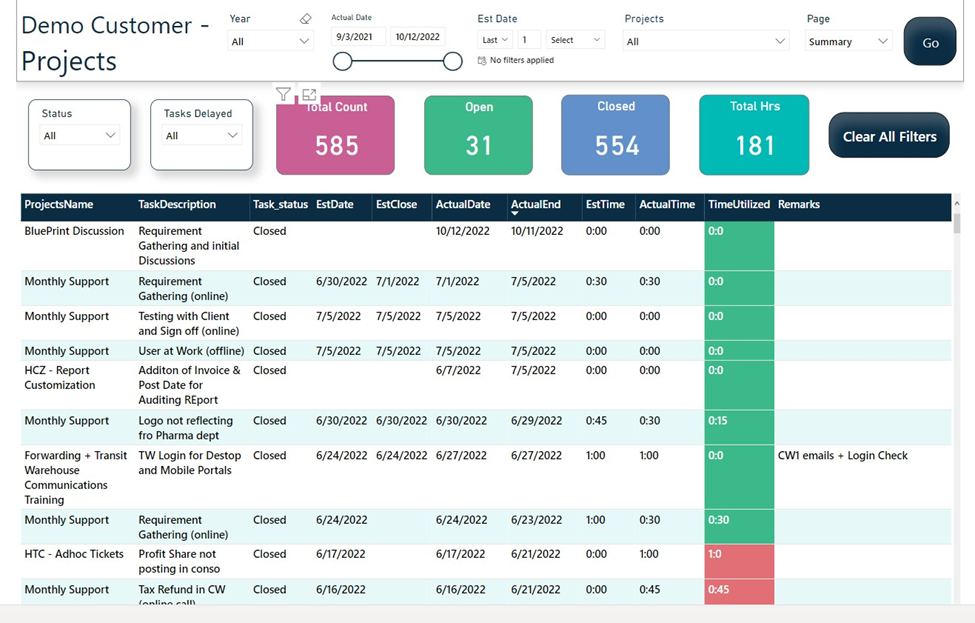 3. Detailed View for Project Managers
Because the nature of implementing CargoWise One is usually complex, multiple projects are onboarded simultaneously. With the Business Intelligence tool, project managers can do their job of planning, organizing, and directing the completion of projects for your organization while ensuring they are on time, on budget, and within scope.
4. Track time spent on projects
The Business Intelligence tool provided during project implementations includes tracking features that provide c-suite executives to monitor project timelines at a glance. It also provides managers with tools to drill down to specific date ranges, ensure all tasks are on track, and the project is ready by the go-live date.
Thus, this feature becomes a powerful tool to utilize CargoWise One to its full potential by predicting accurate timelines and thereby staying ahead of the game.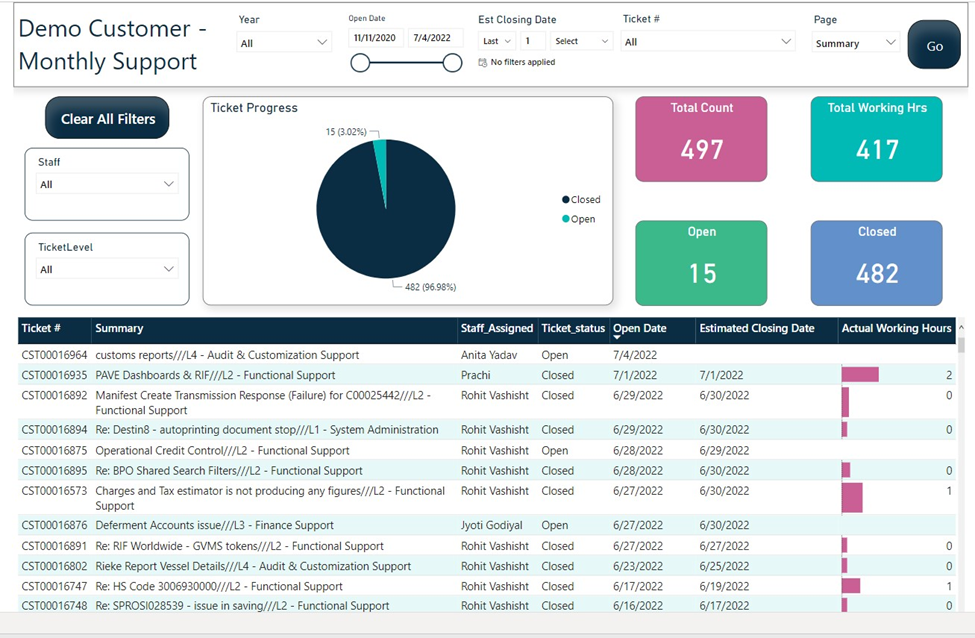 5. Receive Project Support & Helpdesk Support
With the project support feature, remote work for your staff members has never been easier. You can view the assigned staff and their tasks and filter per staff member; and receive adequate support when needed.
With the monthly support feature, the status and level of the tickets raised by your organization can be tracked, thus informing you where issues are usually arising so that your business is on track for the go-live date!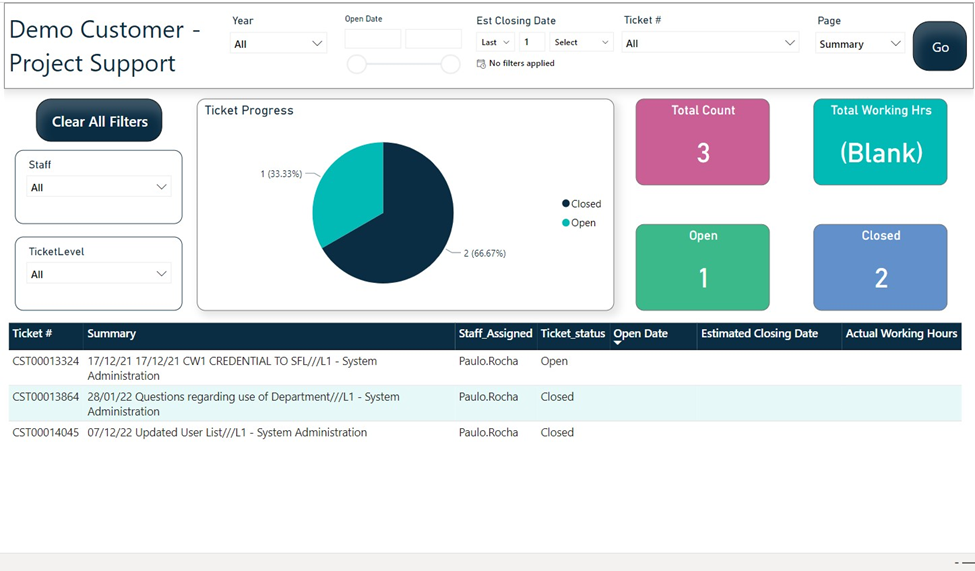 Conclusion
The Business Intelligence tool has been an accompaniment for almost all our clients!
It brilliantly accesses and analyzes data sets and presents the findings in reports, graphs, dashboards, and maps to provide you with detailed intelligence about the status of your project implementations for free!
In addition, if required, organizations can choose to receive optional access to the mobile app too, so that regardless of which stakeholder and where this data needs to be observed, visibility is always at the tip of your fingertip!
As CargoWise service partners, we don't just implement CargoWise for your business, instead we ensure all stakeholders have real time access to the implementation process!
To implement this Business Intelligence tool in your CargoWise One implementations:
Schedule a free consultation call with us here.