Case Study: Two Supply Chain Giants Increase Productivity via CargoWise Implementation and Integration
Read this case study to get an in-depth understanding of how two large supply chain organizations improved their performance and boosted efficiency using SFL's CargoWise Implementation and Integration solutions.
CargoWise Implementation by SFL
CargoWise is a holistic, transformational software for logistics businesses to execute and manage complex operations. It is a platform that uses digital automation and analytics to propagate visibility and control in marketing, freight forwarding, operations, finance, purchase order management, and warehousing.
By using CargoWise automation, supply chain businesses can use the experience of their labour for exceptional tasks without wasting talent on mundane or repetitive tasks. As such, any software requires an implementation strategy to ensure a smooth transition from the legacy systems currently in place.
Configuring a piece of software for the entire business operation is no easy task. Especially considering logistics businesses come in all sizes and operate in several countries with different governance practices.
CargoWise Implementation by SFL helps logistics businesses to deploy CargoWise efficiently with enhanced business and stakeholder benefits.
CargoWise Integrations by SFL
Businesses have different divisions that need to work together. Freight forwarders interact with several internal and external stakeholders daily. It should not be a hassle to obtain and communicate data from one system to another. Moreover, repetitive data entry wastes precious time and is not cost-effective.
SFL's Integrations amalgamate several supply chain systems and software applications to work as if they were one. Our integration process helps automate and streamline processes, share real-time data, and improve overall efficiency across multiple systems including customers and manufacturers from various locations.
We help logistics companies achieve integration through APIs (Application Programming Interfaces), middleware – a plug-and-play option, or custom-written code to make your software communicate with, and access the functionality of one another. In simple terms, you will have to enter master data once in CargoWise and have it made available everywhere.
SFL's Process & Methodology
We approach projects using two main methodologies depending on organizational needs.
Agile Methodology – A flexible and iterative approach to logistics businesses of large sizes by delivering incremental and collaborative improvements to provide the maximum ROI and value as quickly as possible.
Waterfall Methodology – A linear approach better suited for smaller companies with pre-defined requirements and scope.
Depending on the goals and constraints of a project, we either take a singular or combined approach.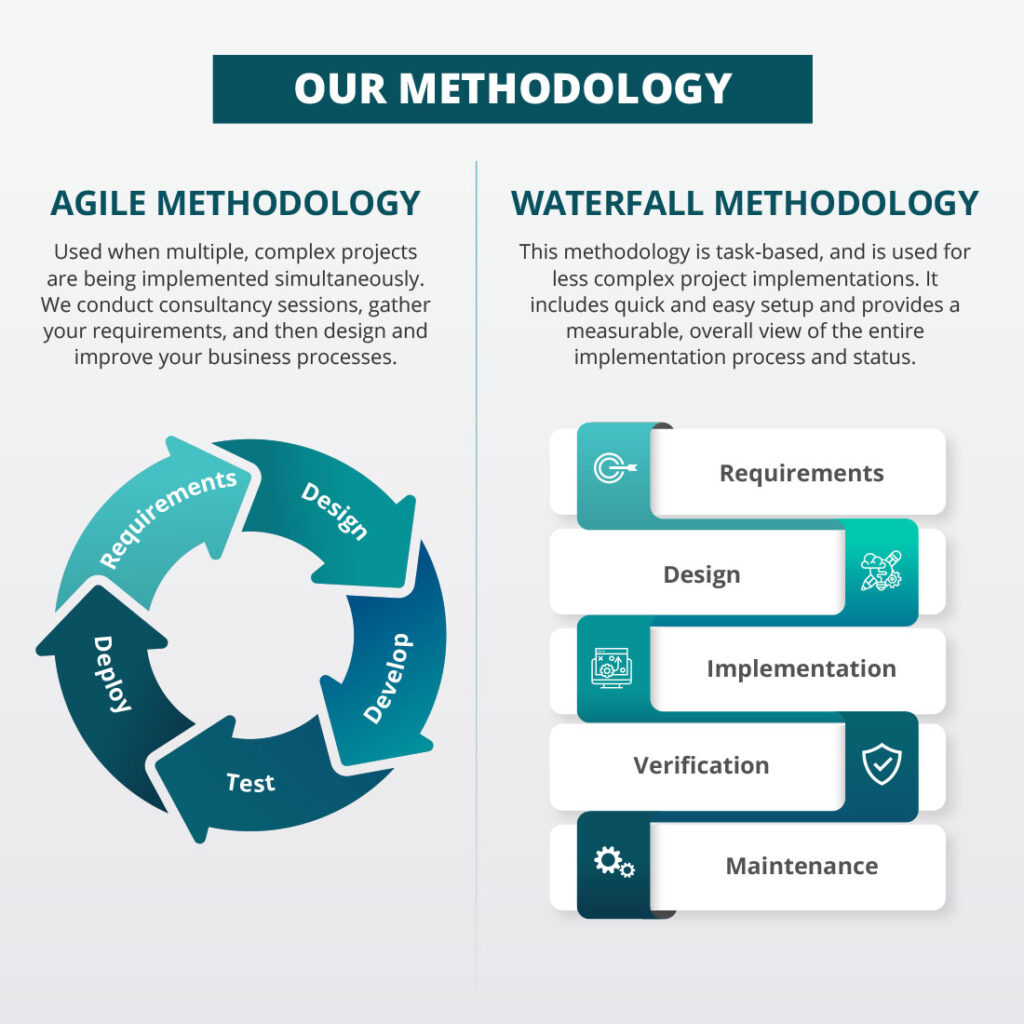 Our process to fulfill a client's requirement is broken down into five different stages. This will be done for CargoWise Implementation, CargoWise Integrations, and sometimes holistically.

Stages 01 and 02 are the initial phases of understanding the client's requirements, documenting, analyzing gaps, and designing their reconciliation roadmap.

Stages 03 to 05 are phases in which we implement and integrate the solutions by building, testing, and deploying CargoWise into the client's existing infrastructure.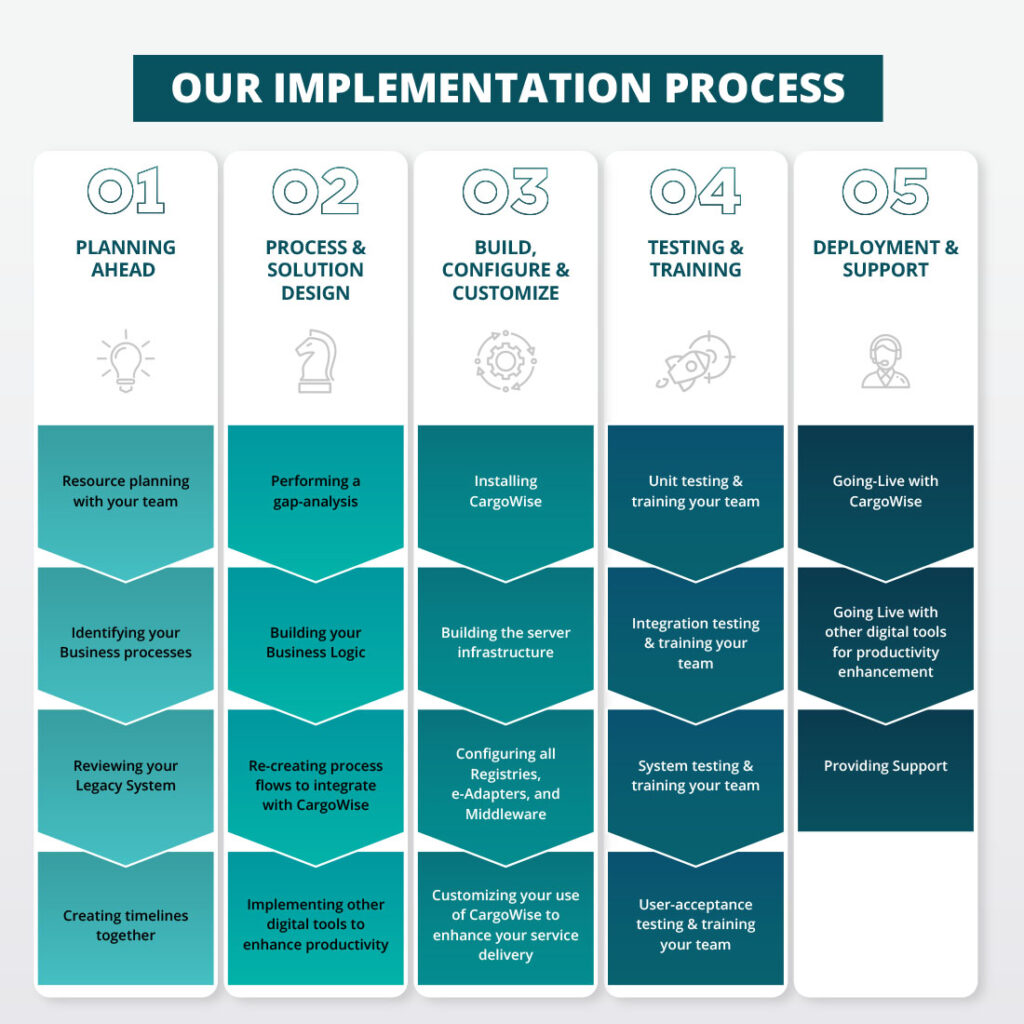 Client Story: North America's Leading Customs Broker
Client Overview
Founded in 1945, this client is a North American company focusing on customs brokerage and compliance, offering international trade consulting and freight forwarding solutions.
They have their headquarters in Chicago and conduct operations along the U.S. – Canada border, with both air and sea hubs in Los Angeles, New York, and Norfolk. Currently, they have over 2,900 employees working at more than 100 border points, seaports, airports, and several other locations in North America, Europe, and the Far East.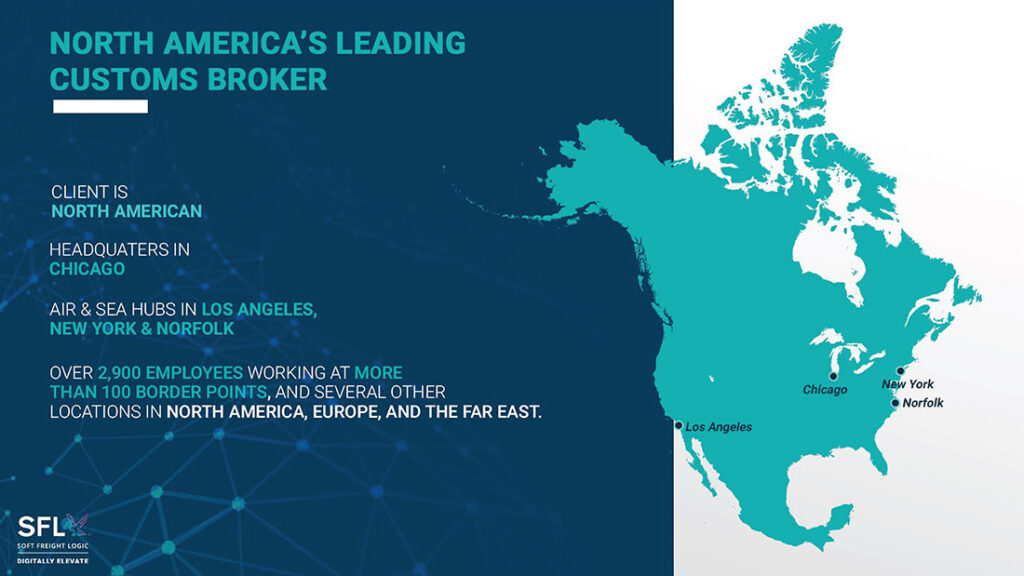 Our Consultant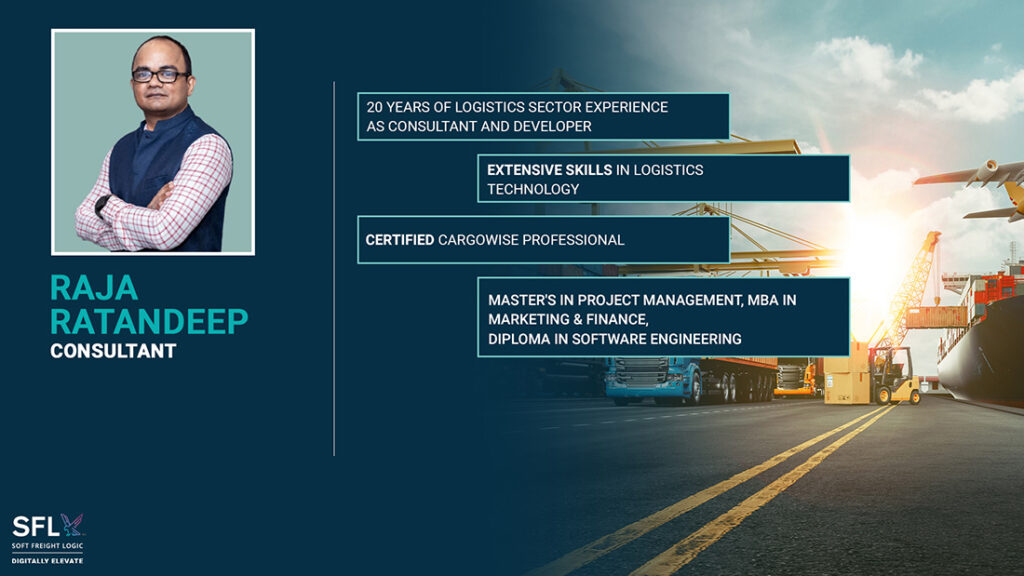 SFL's consultant for the client was Raja Ratandeep – one of our co-founders. Raja has 20 years of experience working in the logistics sector as a consultant and developer with extensive skills in logistics technology. He is a certified Cargo Wise professional with a Master's in Project Management, MBA in Marketing & Finance, and Diploma in Software Engineering.
Raja possesses a thorough knowledge of geo-compliance and finance & accounting in over 20 countries. He is also experienced in Domestic transport, Courier, and International freight forwarding.
Initial client requirements:
To eliminate the use of multiple software to reduce the cost and complexities of data sharing for both the import and export of Sea and Air forwarding.
To streamline their rates and tariffs tasks via CargoWise
To have control of their Credit Checks through CargoWise
To deploy the Cargowise software across their network (Implementation process stages 3,4,5)
To design a blueprint for the CargoWise integration, which their developers can then implement.
Implementation – Considering the larger size of the company, we took a holistic approach and suggested they don't bypass stages 1 and 2 (gap analysis and solution design) for their Cargowise implementation.
We proposed a gradual roll-out of the software by developing minimum viable products (MVPs) that would be implemented in phases. Trying to accomplish all the objectives of a project at once is a high-risk approach, and may cause major disruptions to the business. Instead, we distributed the ROI to each MVP to ensure business continuity.
Integration – The client recognized the complexity of carrying out an enterprise-wide implementation of the software and requested that SFL take on a full-service approach, covering all stages of the process, from planning to deployment (Stages 1-5).
Moreover, we suggested they utilize Tasks and Milestones, a key module of CargoWise to increase uniformity in each of their business divisions as they did not have this feature in their existing legacy software.
To automate their rates and tariffs, we implemented CargoGuide for air rates and CargoSphere for ocean rates. Cargoguide and Cargosphere provide freight forwarders with updated rates per route and help them easily manage bookings.
Both CargoGuide and CargoSphere are new modules in the CargoWise software and were utilized by the client to control the entire quotation process through one system.
Outcomes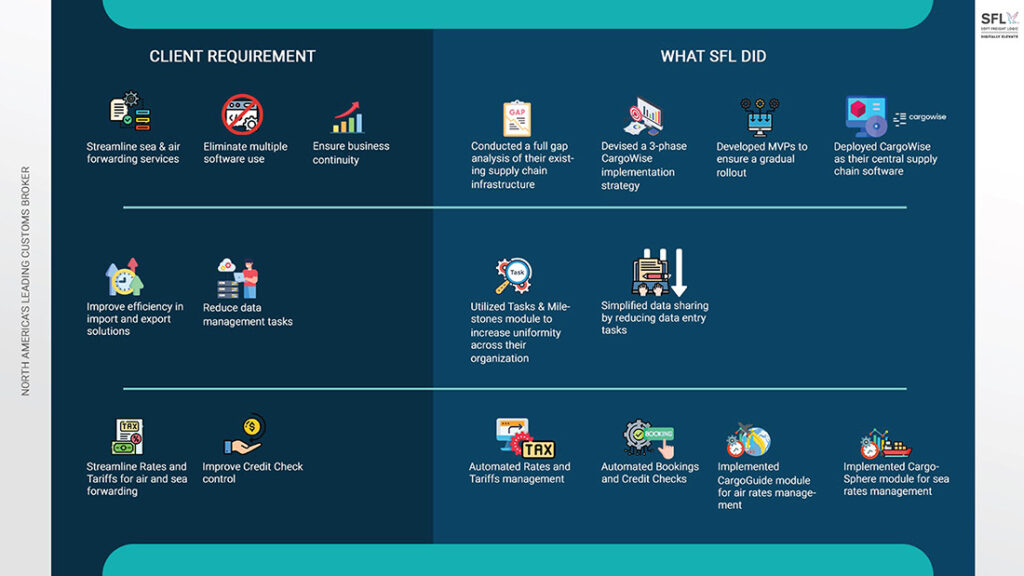 Client Story: Leading LATAM LCL Ocean Freight Provider
Client Overview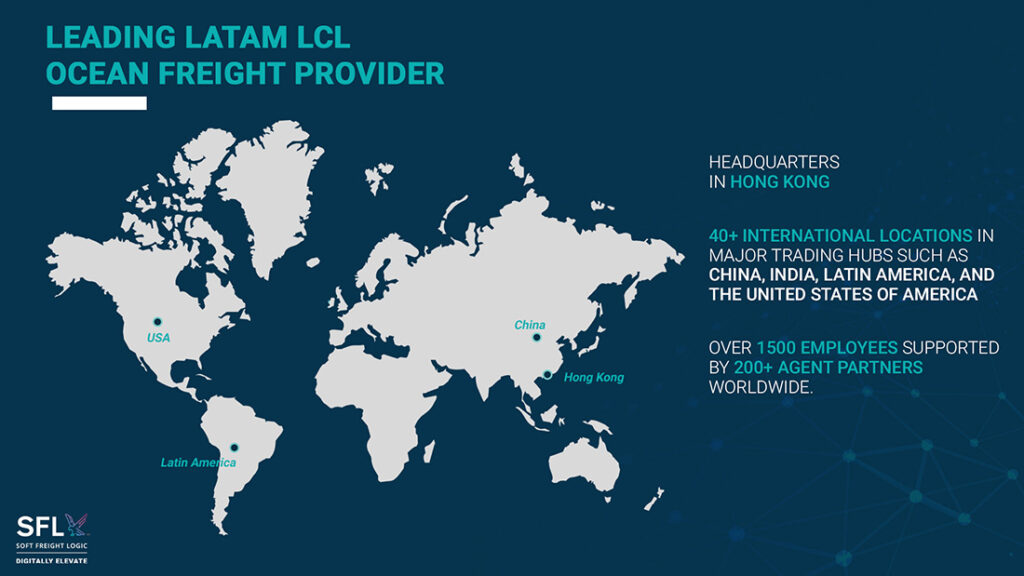 Founded in 1998, this client is a leader in less-than-container load (LCL) ocean freight in the logistics industry.
They are headquartered in Hong Kong with 40+ international locations in major trading hubs such as China, India, Latin America, and the United States of America. Currently, they have over 1500 employees supported by 200+ agent partners worldwide.
Our Consultant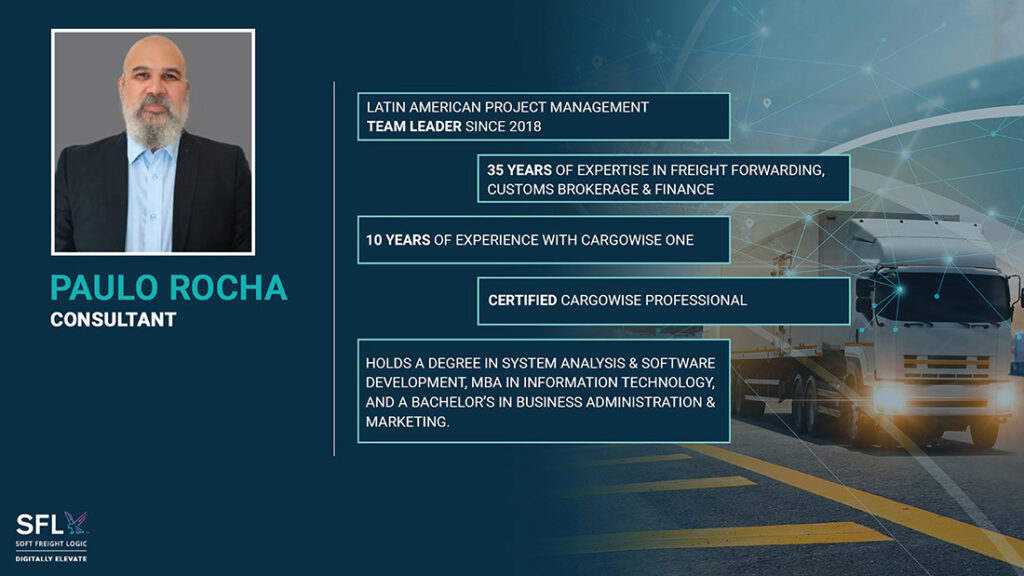 The consultant in charge of this client's CargoWise implementation and integration was Paulo Rocha – who has been leading our Latin American project management team since 2018. Paulo has 35 years of expertise in Freight Forwarding, Customs Brokerage & Finance and 10 years of experience with CargoWise One. Paulo is a certified CargoWise professional with a degree in System Analysis & Software Development, MBA in Information Technology, and a bachelor's in Business Administration & Marketing.
Initial Client Requirement:
The client's immediate priority was to integrate CargoWise and eliminate multiple software use to reduce the cost and complexities of data sharing (Stages 3, 4, 5)
Their LATAM offices in Chile, Brazil, Peru, Ecuador, Costa Rica, Guatemala, Mexico, Uruguay, Paraguay, and Argentina required e-invoicing due to government regulations.
To integrate their existing financial software with CargoWise so that master data was only entered once via Cargowise.
The client's immediate need was to swiftly integrate CargoWise with its existing legacy software. While we promote a comprehensive and methodical approach to integrating and implementing software, the pressing nature and urgency played a major role in helping the client quickly achieve financial control.
E-invoicing – CargoWise does have an e-invoicing functionality available in Brazil, Argentina, Mexico, and Uruguay. But SFL had a ready-made solution to help with the existing market requirement in Brazil, Paraguay, and Uruguay. For Argentina, SFL did the set-up through e-invoicing functionality.
Now, with the goal of optimizing its business operations, the client has decided to holistically evaluate its entire system from ground zero. Such an approach will provide a comprehensive understanding of the potential utilization of their investment in CargoWise to fully leverage the technology.
Outcomes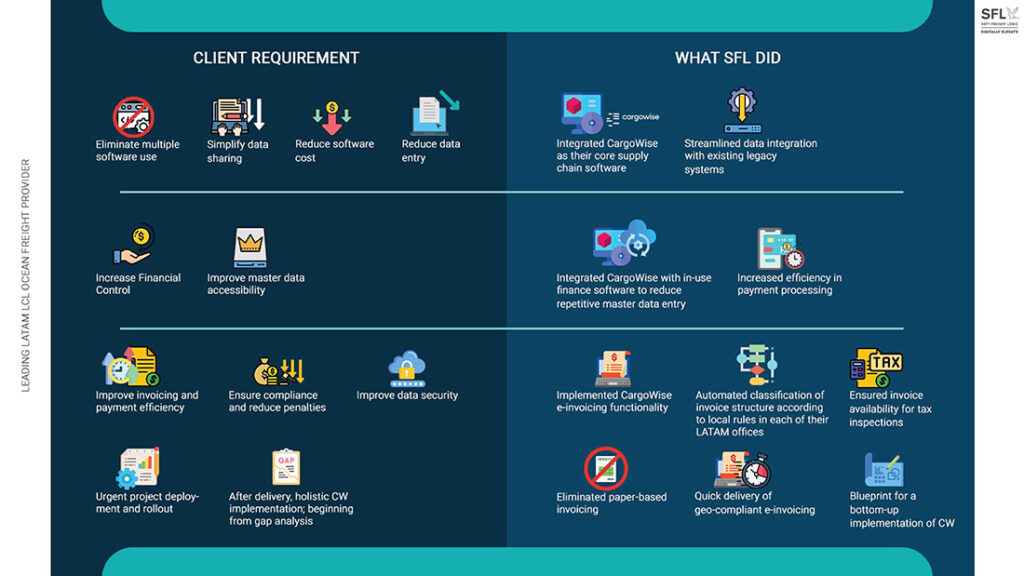 Why did these logistics businesses choose SFL for their digital transformation?
We are platinum-certified service providers of CargoWise; meaning we possess the highest accreditation for CargoWise services.
We've worked with over 200 supply chain management businesses, logistics providers, and freight forwarders to elevate their digital presence.
We provide an end-to-end digital stack including designing the solution and building the infrastructure necessary for its successful implementation.
We are subject matter experts in supply chain management and possess the technical expertise to cater to the market. If the scope of your requirement is greater than the solutions provided by CargoWise, we can develop the necessary technology for your business.
We take a comprehensive, forward-thinking approach. While we are dedicated to elevating your business digitally, we also focus on maximizing your investment by making optimal use of CargoWise by showing how you can utilize other modules that were beyond the scope of your initial requirement.
We believe that knowledge transfer empowers our clients. Hence, we make sure to provide comprehensive documentation of everything we do throughout the implementation process.
From day one, we assign subject experts as consultants to ensure smooth communication and optimum support to our clients throughout the entire duration of the project.
Our team has a wealth of experience working with large companies globally, which has equipped us with the knowledge of not just what needs to be done, but also what you should avoid in your effort to digitally transform your logistics business.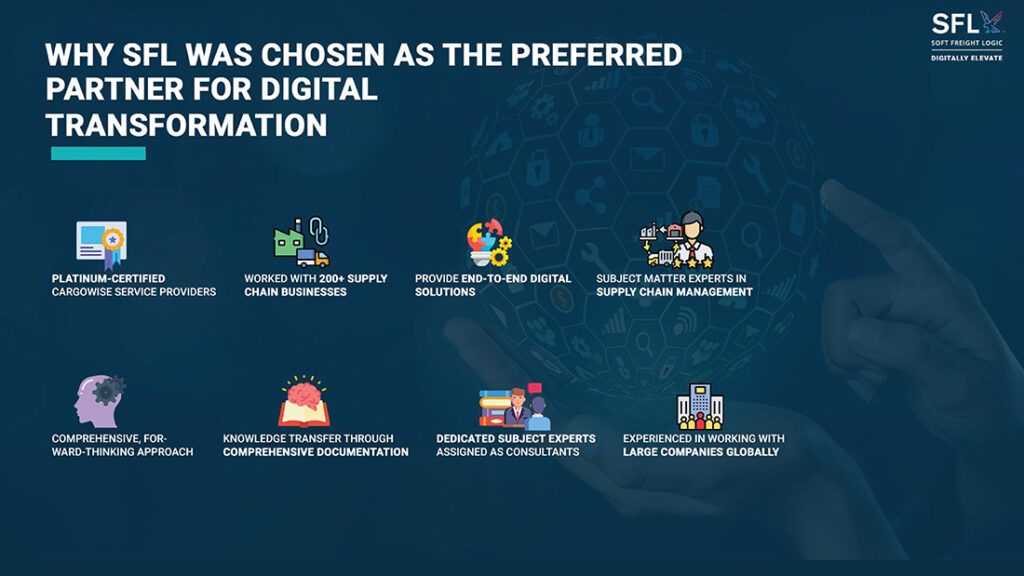 Want to get in touch with us? Book a Free Consultation Call with one of our experts right now.
FAQs
How long does the CargoWise implementation process take?

The duration of the CargoWise implementation process depends mainly on the size of your organization. It will also be influenced by the complexity of your customization requirements. Generally, the full implementation process may be over in a few weeks, and sometimes implementation happens in stages. When working with firms that have multiple branches, departments, and functionalities – a process that requires rigorous planning and set-up – the implementation can take several months to complete.
Can we continue to use our existing legacy software after implementing CargoWise?

If you prefer, yes. Our integration service is seamless and lets you manage your operations using one centralized system. For example, you will only be entering your customer data to CargoWise once, and it will be available in your finance software automatically. Less data entry, more productivity.
Will you train my employees to use CargoWise?
Yes. Testing & Training is an integral part of our CargoWise implementation process. We ensure that your entire team is equipped with the necessary skills and practices to use the functionalities specific to their role.