Logistics Giants Improve Visibility and Accuracy via Manual Workflow Automation
Freight forwarders grapple with several internal and external processes. All of them ensure the successful movement of goods along the supply chain. From the start of a job to its completion, documenting and communicating critical information make up the core of the workflow.
In this case study we will focus on the following:
The challenges within traditional supply chain workflow operations
What is Advanced Workflows, and how it helps logistics businesses tackle those challenges seamlessly
How SFL's client base benefitted post the integration of Advanced Workflow into their logistic business processes
Click here to check out the three case studies right away!
Manual Workflow In Logistics and Its Challenges
Managing the day-to-day workflow in this industry can be challenging. The shortcomings can accumulate over time and affect the profitability of the logistics company.
Here are the most common manual workflow challenges that logistics business face:
Inefficient communication
The logistics industry is information and time-sensitive. Late updates or notifications to the relevant parties will increase the delay.

Lack of visibility
It can be difficult to monitor the entire logistics process when it is managed manually. This can make it hard to identify bottlenecks, inefficiencies, and other detrimental problems.

Data errors
Manual data entry is prone to errors, which can lead to incorrect information being recorded and disseminated. This can cause problems such as incorrect shipment and delivery.

Lack of flexibility
Manual processes are often rigid, making it difficult to adapt to changing circumstances or client demands. This can lead to missed opportunities and lost revenue, while also limiting the company's ability to scale.

Difficulty tracking progress
Tracking the progress of manual processes is tough. If not done right, unidentified issues become harder to tackle.

Limited integration
Manual processes may not be able to easily integrate with CRM or ERP systems. This will limit a company's ability to share data and optimize processes across departments.
Advanced Workflows: What, How, Benefits To Logistics Providers
Workflow automation through CargoWise is designed to help logistics businesses regain control and visibility.
Regardless of your company size, you can integrate Advanced Workflows into it. This technology layer will open your logistics business to immense scalability in a relatively short time frame.
Here's how you can benefit from implementing Advanced Workflows into your logistics company:
Eliminate redundant or repetitive tasks that are slowing down business activity and boost overall productivity
Increase efficiency and accountability in your workflow while minimizing human dependencies.
Reduce processing time by automating time-consuming tasks, without exhausting your talent pool, which in turn will enhance employee retention.
Provide better visibility across your organization. Eliminate manual emails and processes using on-time tracking, automated notifications, and reminders.
Automate tasks, milestones, triggers, and exceptions to maintain a system that troubleshoots unforeseen errors before it gets out of hand.
Boost client satisfaction with a consistent, structured framework that ensures timely delivery.
Use clear and concise data via the visualization engine to improve business performance.
Use e-invoicing to enhance compliance and connectivity to local governments and port authorities while minimizing revenue leakage by preventing demurrage and detention charges.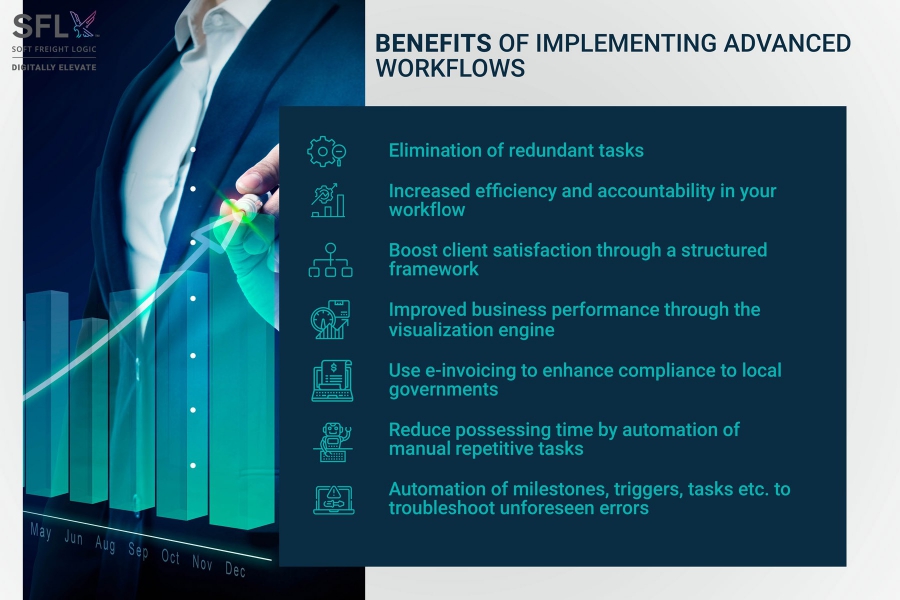 Using Advanced Workflows, you can automate the following arms in your logistics business:
Air Export Automation
Ocean Freight Automation
Road Freight Automation
Imports Automation
Customs Automation
Global Container Tracking
Air Way Bill Automations
Finances Notifications
Sales & Marketing Workflow Automation
Client success via Advanced Workflows implementation
Logistics company based out of Australia
Who
Our client is a mid-sized Australian freight forwarder offering various services such as freight forwarding, customs brokerage and 3PL solutions, tailored to industry-vertical requirements.
With offices in Brisbane and Sydney, around 95% of the jobs they handle are import jobs for their clients.
Challenges
Supervisors and managers found it difficult to find and understand the tasks users were handling at a given time, making it difficult to assess and quantify the outcomes of their team's activities.
All communications were being done outside CargoWise, resulting in failed notifications and updates to customers.
Their orders were made manually, which increased processing time and created unnecessary delays.
Solutions
By creating user-friendly tasks, they were able to introduce clarity within their operations, and management reporting.
They are saving time and providing full visibility to their end client by deploying automated tasks around their order-management system.
Currently, we are in the process of automating milestones, and trigger notifications to be sent from CargoWise to reduce outside communication.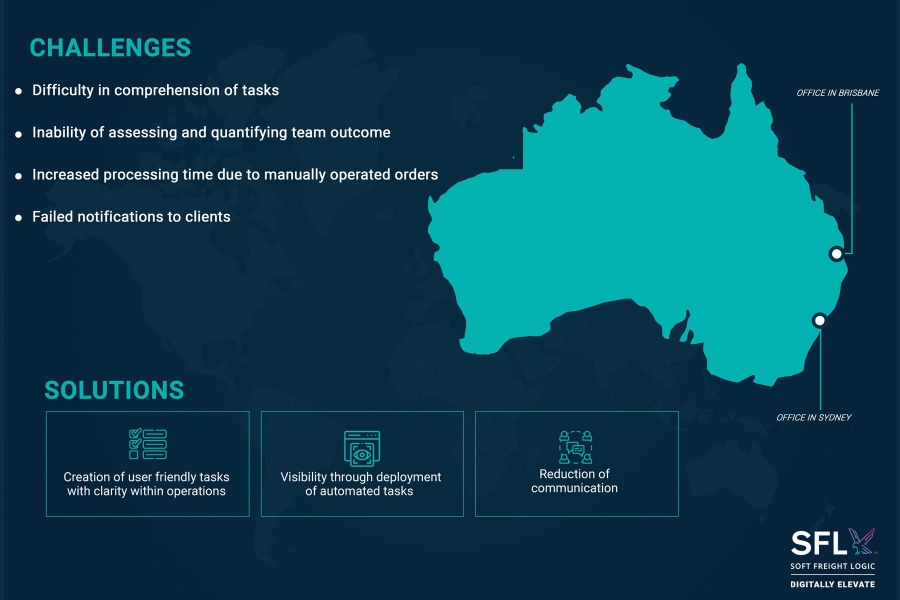 A large logistics provider based out of Latin America
Who
Our client is a globally recognized logistics provider with 40 offices across 12 countries. With a 26-year history, they were recognized as a top 30 company for volumes shipped in 2021.
They are recognized by Dun & Bradstreet and are the only Latin American company to feature in Transport Topics' list of 50 largest ocean freight forwarders in 2022.
Having over 1000+ employees, these are the challenges they faced; and the solutions we provided: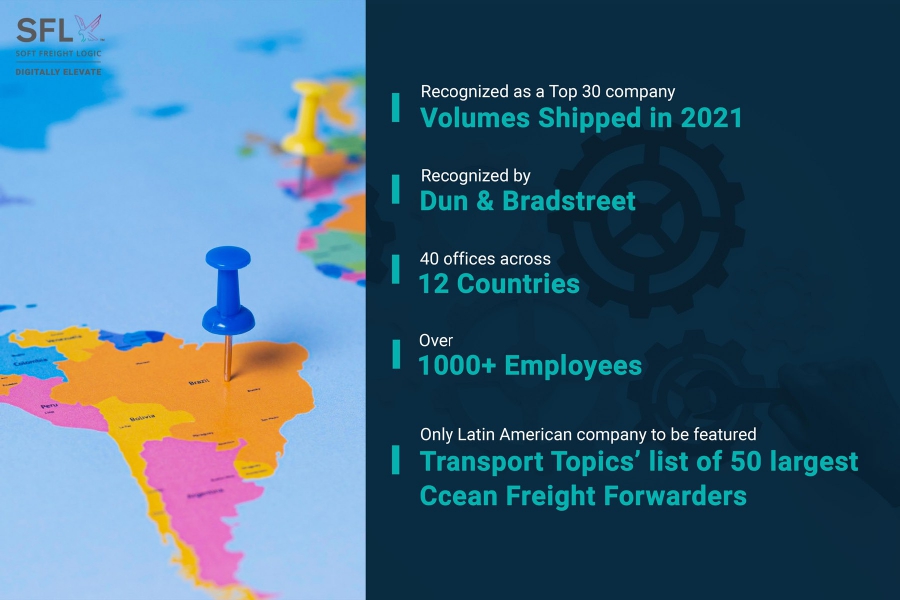 Challenges
With large operational and customer services centers, they could not analyze their team's workflow management.
In dire need of a system that could keep track of important jobs and the individual tasks required for completion.
Solutions
Using Advanced Workflows, they categorized their tasks and configured different processes within CargoWise. And then, we linked them to smoothen coordination.
By deploying advanced workflows and task categorization, they achieved greater levels of coordination and communications.
We automated their ocean-import tracking from departure until arrival. This enabled them to provide clients with updated info and real-time tracking.
For their Brazilian office, we created a centralized system for tracking teams, easing workflow management and in-house visibility.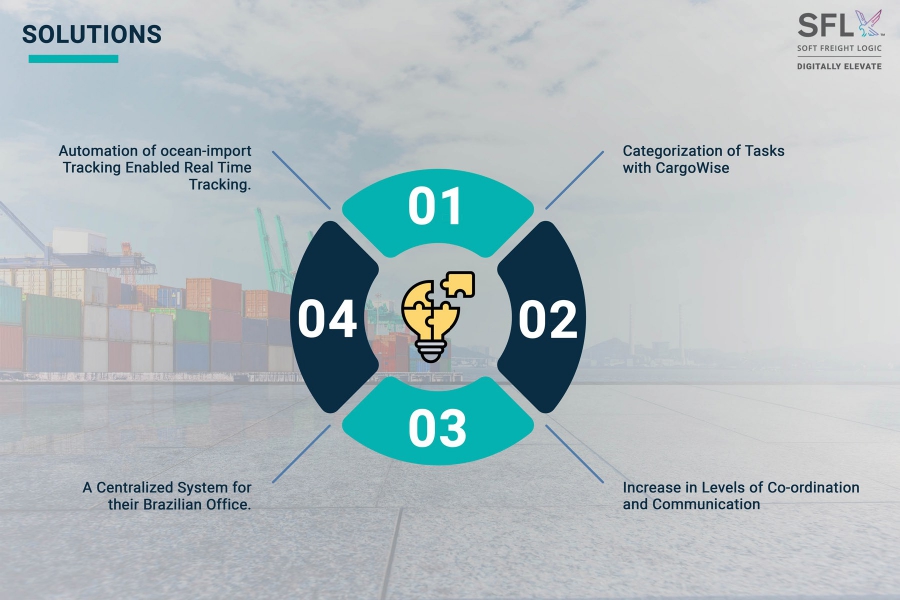 SFL's Business Process Offshore (BPO) team
Who
The SFL BPO team overlook our data entry elimination arm. In their case, we will look at how they used Advanced Workflows to bring about efficiency in 'Track and Trace'.
For each transport mode, there will be several shipments in a day with a minimum of one routing leg. 15 shipments with 2 routing legs would require an average of 4-5 hours every day. shipment data only keeps increasing, even while old shipments are incomplete.
Challenges
Tracking shipments manually was time consuming
Shipment data only keeps increasing, even while old shipments are incomplete, resulting in backlog
If shipments increased, they had to manage the workload with existing resources. Hectic work increased inaccuracy.
The manual milestone tracking failed to provide timely updates on delays in departure or arrival
Solutions
Using Advanced Workflows, our BPO team was able to create and track accurate tasks based on exceptions.
60-70% of tasks closed on time with minimum use of resources.
When the carrier website changed the arrival/departure time, the schedules were automatically updated on their tasks.
Real-time delay notifications helped created visibility around each job.
Entries or changes prompted the user with an option to update shipping routing too. This meant that they saved time by cutting repetitive tasks.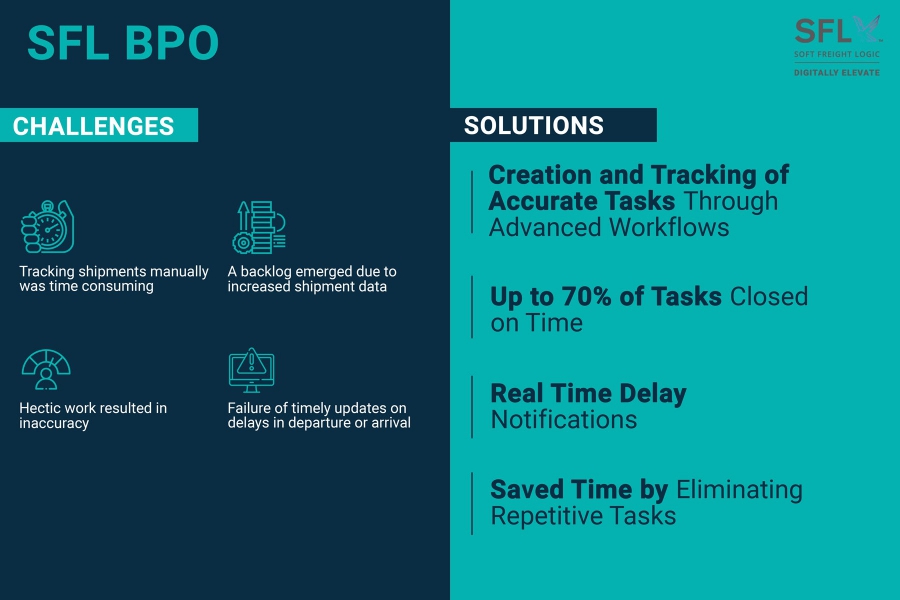 Are you a logistics provider looking to increase efficiency and visibility across your entire workflow?
SFL brings both domain expertise and cutting-edge technology to the table. We are a recognized and certified CargoWise partner.
In 2022, we carried out 20 CargoWise implementations, 48 integrations, and delivered 200+ automations across 40 logistics businesses. Our clients saved over 75,000 hours or over 8.5 years.
Want to save years by digitally elevating your logistics business too? Book a free audit call with one of our experts right now.
FAQs
How do we begin the process of Advanced Workflow implementation in my organization?
First, you will have to book a free consultation call here, or email us your interest to implement this service: connectwithus@softfreightlogic.com

Second, our CargoWise domain consultant will brief you about Advanced Workflows and how it works in detail.

Third, our CargoWise domain consultant will initiate the onboarding process based on your company size and requirements.
How long will the implementation process take?
Performing a GAP Analysis would give an accurate estimation.
However, we generally see that for 1 department or Mode, it can take up to 2 months for a division that handles about 500 file per month.
Can we implement Advanced Workflows if we do not use CargoWise?
Yes if your ERP allows it. SFL exclusively supports customers on CargoWise One as we have found it to be the most flexible system in the market.
Is Advanced Workflows a one-time purchase and installation or will we need to continuously receive support for it for as long as we're using it?
Workflow Automation must be a Continuous Process. However, having the right foundations in place is critical to ensure that the system remains 'scalable'.
90% of the work performed is a One-Time Purchase but optimization is performed as part of our Help Desk Support to ensure that your business keeps up with best practices & customer demands.
If you do have the skills in house, the optimization process can even be performed by your internal team without our assistance.