Read Below for a Full Case Study on How RIF Increased their automations by reducing Data Entry Tasks.
Company Overview
RIF, an existing CargoWise One user established in Hong Kong in 1990, the company name "Rockwood International Freight Limited" was adopted following an independent move from the original parent company. RIF Worldwide was established in the UK in 2002 and represented the first move by the company into the European market.
They specialize in providing international transportation services, to and from all points in the world, via air, ocean and road. Their comprehensive global network has been established to meet their customers' ever-changing needs.
When losing turned to winning
Challenges
Client was not fully satisfied with their expectations from their service provider in terms of the VAT and TAX setups on their system. VAT was being charged inaccurately to customers and this opened the business to higher risk.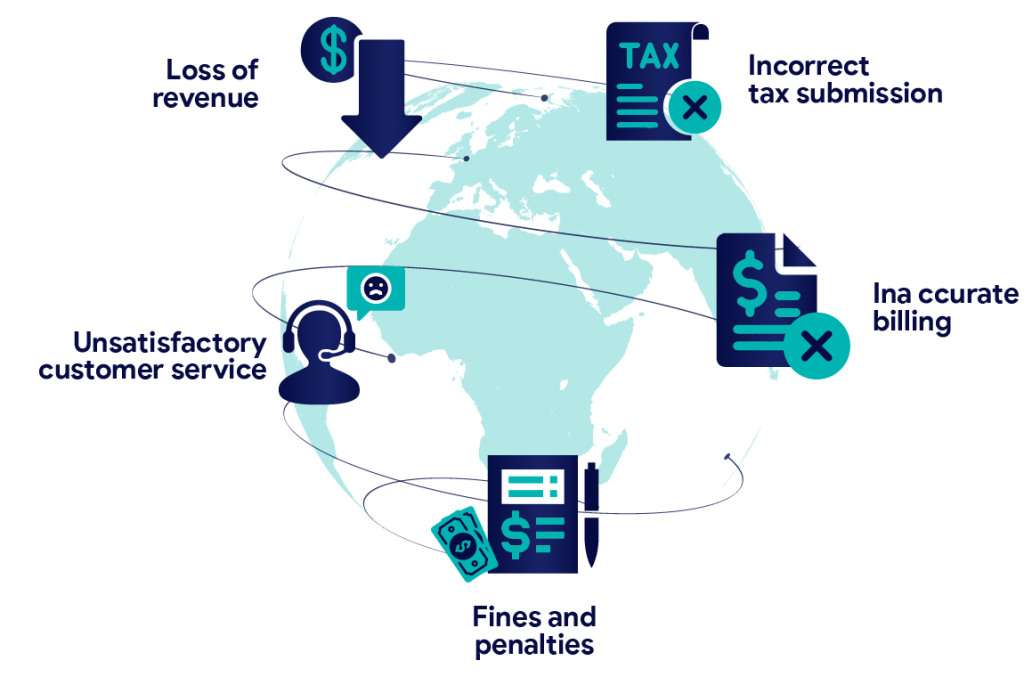 RIF also established that they were not making full use of their CargoWise One System automations to move them to a Digital Forwarding space.
After a further consultation with the client and identifying the area where automations can be accelerated to further elevate the client digitally.
How to use what is already there
During consulting phase high business value items were identified.
In order to provide a solution a full system gap analysis had to be performed.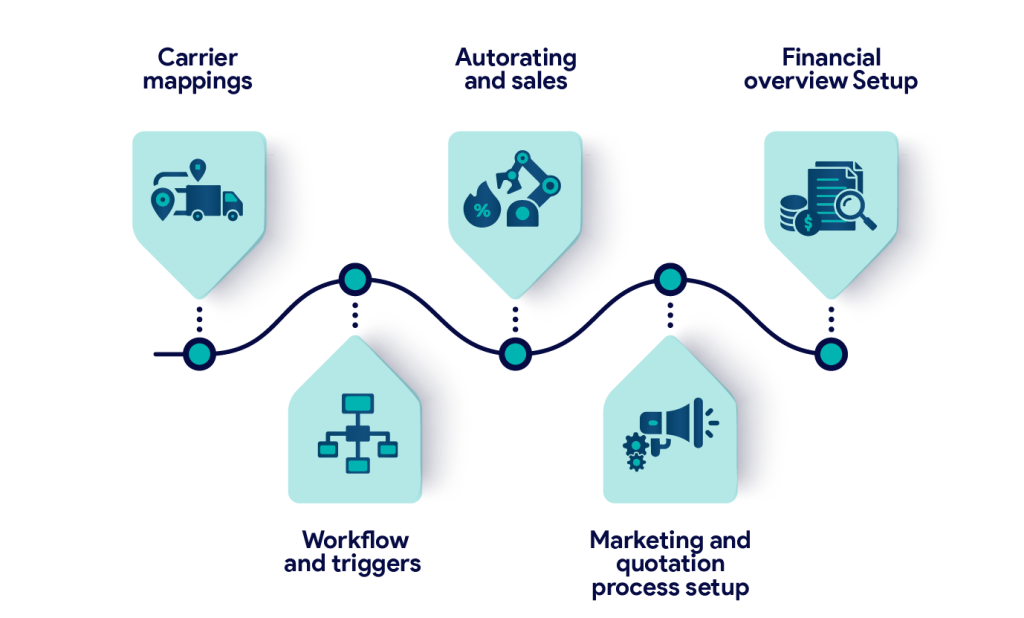 One Step Closer To Becoming A Digital Forwarder
During this phase the following were identified and had to be added to the project list.
Project map
CargoWise One >>> SOP Creations
Integrations
CargoWise Warehouse Management Systems Module and End client's fulfillment website.
Gravity track and trace Portal
Webtracker Redesign to provide visibility
Data entry elimination services using RPA and OCR

for Job console creation
and Container/Air cargo Track and Trace activities

BPO – Cargo Doc – OCR for customs data entry elimination
Server Configuration to deploy RIF's middleware which was built by SFL
Helpdesk: Continued to provide helpdesk support for support on day to day issues and also enabling them to connect to key partners through E2E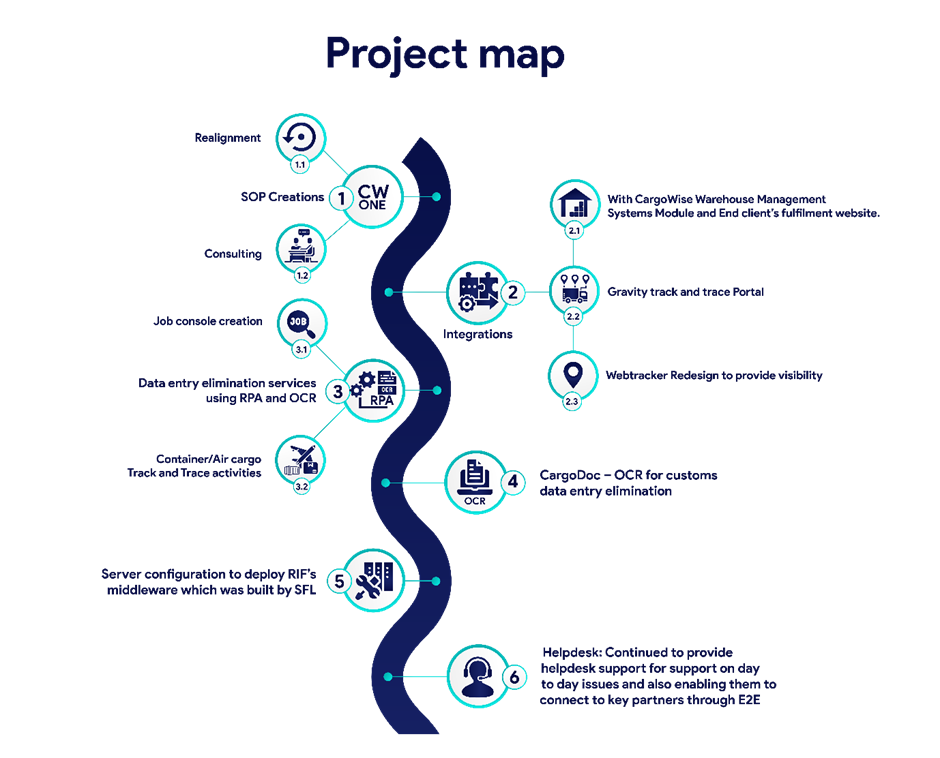 | | |
| --- | --- |
| Client had an existing client portal and with the CargoWise integrated capabilities, Server Configuration was able to deploy RIF's middleware (developed and built by SFL) to increase visibility | Objective: Connect CargoWise One to their client portal so visibility can be replicated across key clients (primarily purchase order visibility) Helpdesk support also involved continuous report writing for management reports and monitoring of KPI's |
In which areas did they save when they integrated with the CW1 Warehouse system and what transactions/processes were automated versus before the integration?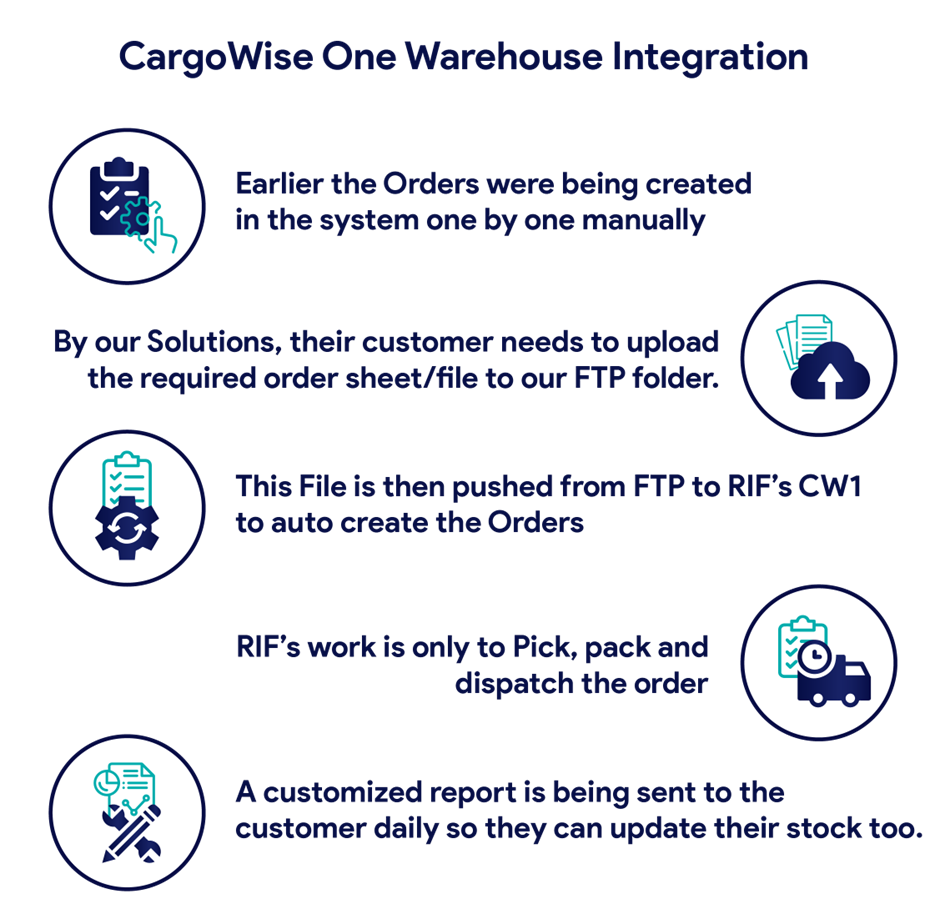 Earlier the Orders were being created in the system one by one manually
By our Solutions, their customer needs to upload the required order sheet/file to our FTP folder.
This File is then pushed from FTP to RIF's CW1 to auto create the Orders
RIF's work is only to Pick, pack and dispatch the order
A customized report is being sent to the customer daily so they can update their stock too.
Results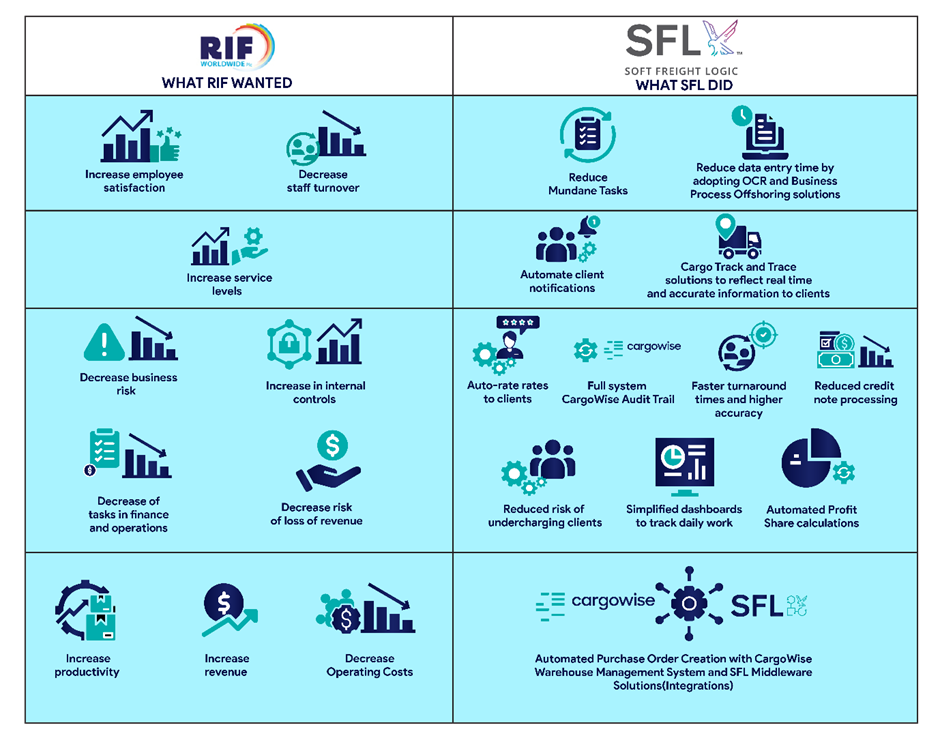 WHAT RIF WANTED
Increase Employee satisfaction 
Decrease staff turnover
Increase service levels
Decrease business risk
Increase in internal controls
Decrease of tasks in finance and operations
Decrease risk of loss of revenue  Increase Productivity
Increase Revenue
Decrease Operating Costs
WHAT SFL DID
Reduce Mundane Tasks
Reduce data entry time by adopting OCR and Business Process Offshoring solutions
Automate client notifications
Cargo Track and Trace solutions to reflect real time and accurate information to clients
Webtracker Redesign to provide visibility
Auto-rate rates to clients
Full system CargoWise Audit Trail
Faster turnaround times and higher accuracy
Auto-rated rates reduces credit notes processing or under charging clients. Simplified dashboards to track daily work
Automated Profit Share calculations
Automated Purchase Order Creation with CargoWise Warehouse Management System and SFL Middleware Solutions(Integrations)
Future Goals with client: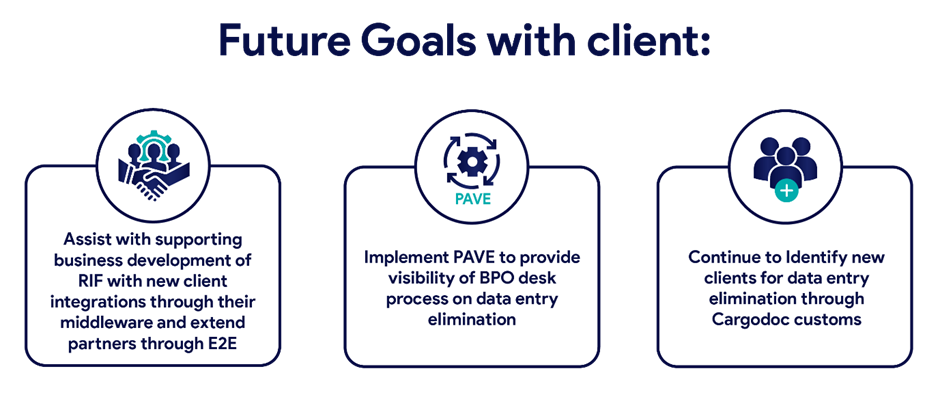 a. Assist with supporting business development of RIF with new client integrations through their middleware and extend partners through E2E
b. Implement PAVE to provide visibility of BPO desk process on data entry elimination
(BPO desks do data entry and pave provides visibility)
c. Continue to Identify new clients for data entry elimination through Cargodoc customs
Data Entry Tasks Reduced by Eighty Five Percent (85%)
SFL is dedicated in offering the best to the Logistics Companies worldwide. With a deep connection to mental health, diversity and inclusion, it is always important that money spent, must be money spent well.
Below are the details of why RIF will continue to use SFL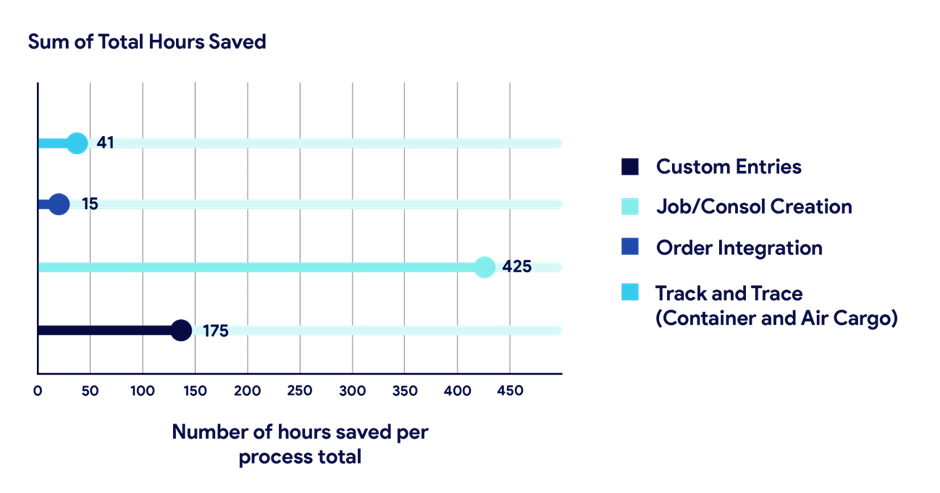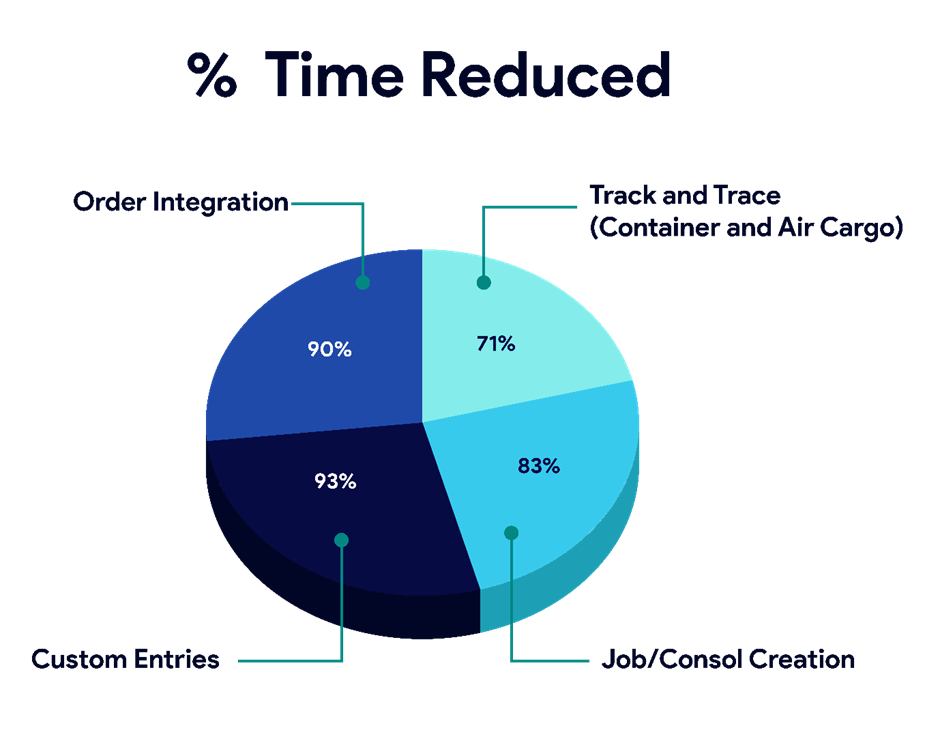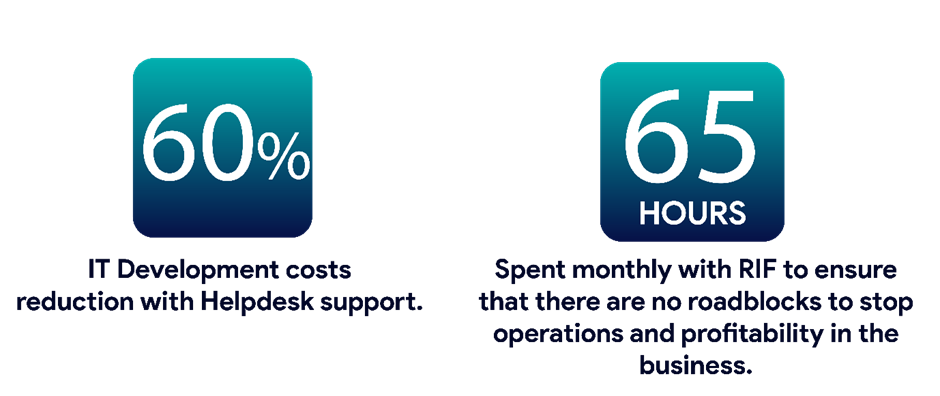 Please note Staff was not reduced through automations but their hours of work had reduced significantly giving their employees a better work life balance.
HOW CAN SFL HELP YOU
SFL is dedicated to assisting Freight Forwarders with CargoWise Consulting, Integrations, Visibility Tools, System Gap Analysis, Data Entry Tools and other Supply Chain Solutions.
Book a consultation today and email connectwithus@softfreightlogic.com