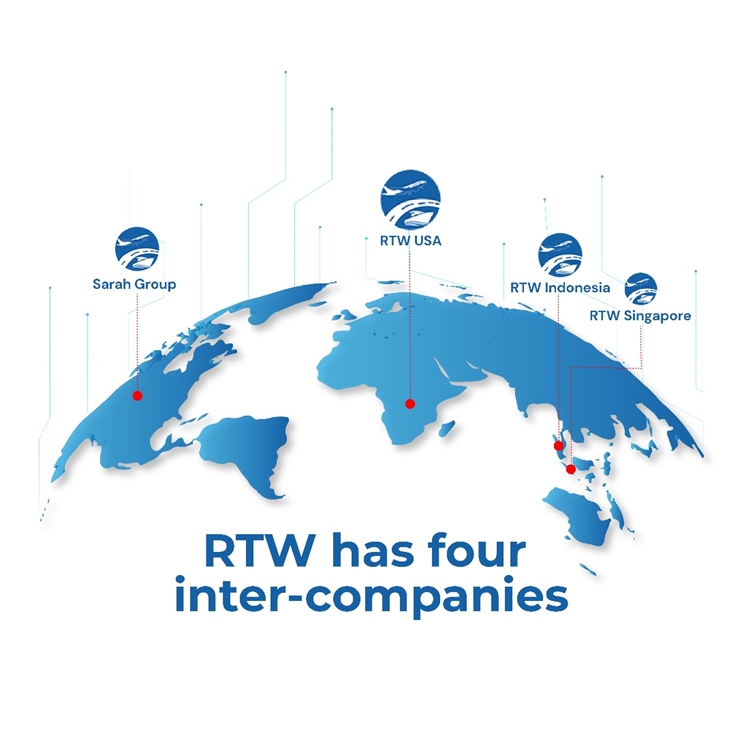 RTW USA is a logistics provider that offers clients freight services, customs brokerage, trucking, and warehousing. With sixteen prime locations and four-hundred staff across the globe today, RTW was registered as a freight forwarder in the state of California, USA, since 2016.
RTW has four inter-companies, namely RTW USA, RTW Indonesia, RTW Singapore and Sarah Group
Client opted to move to the CargoWise Platform in February 2022 to eliminate the usage of multiple systems
RTW's Legacy system was Forwarding focused only. The company had disparate systems for
Forwarding
AMS
Import and Export Declarations
Warehousing
Transportation
You are only as strong as your weakest link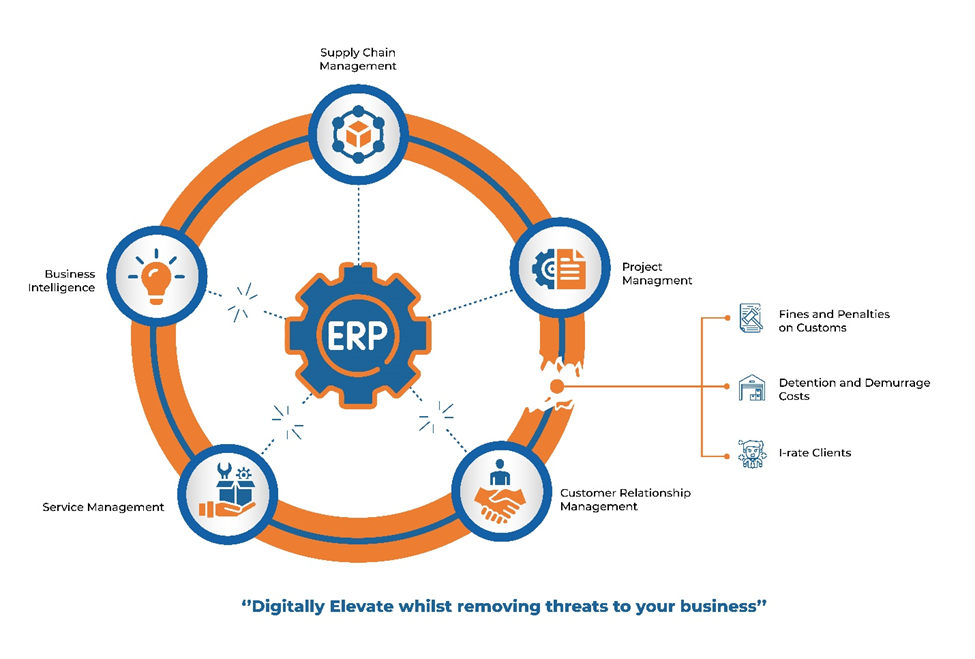 With a workforce around 400 staff, the company naturally faced challenges around
Best Business Processes and
Problem Solving Solutions
Multiple systems used by multiple users across the organization ultimately resulting in
Unreliable and Incomplete Data
Data Inaccuracy
Duplication of tasks
Unsatisfactory Service Levels
Employee Dissatisfaction
Loss of revenue
Loss of customer retention
TDS Non-Compliance
Increase in IT costs
Stuck in Local Behavior
Productivity Lagging
Organisation was operating in Silos
The decision makers of the company (Senior Level Staff) communications were disconnected from the employees who had operated the business day to day operations.
Getting the staff to change their mindset in times of change
Employees needed to know how the business will change for them personally and not as an organization should new systems or processes be implemented. This type of barrier is crucial to overcome to gain support for a successful implementation.
Continue reading to find out how SFL helped RTW become Change Management Experts.
Optimise before you Automate

CargoWise Consulting

Identifying client's highest business value requirement
CargoWise Implementation
The Hybrid Project Methodology was adopted to ensure the client's highest business value requirement is achieved through the project and readjusting the project plan when required to meet industry demands.

Implementation using the SFL Project Methodology
I. Present vs. Future State
II. Tasks and Deliverable dates
III. Gather Resources (Client and SFL) to put action to the plan
IV. Optimize Operations
I. End-to-End business process review to ensure optimizing doesn't lead to sub-optimizing
(Review SOP's and provide feedback to stakeholders)
(Inquire within to discuss our Hybrid Project Methodology –connectwithus@softfreightlogic.com)

Testing and Training
Gather user roles, access rights information, and set up in the system to Go – Live
Helpdesk
24/7 support to keep operations moving and retain clients
BI Tool (Project Management)
RTW was aware of the time and dedication that will be required to perform a global rollout.
The BI Project Report was designed by SFL to give the C-Suite Executives a full 360-degree view of all Projects handled by SFL.
This allows the project manager to be more in control over the project without having to be involved in everything.
Work Flows –capture any specific workflows for the process, not covered above
(identify requestors, approvers, financial limits or other business rules surrounding approval of various activities within the process) e.g.: for Purchase Order processing
Approval workflow details (like two level approval / hierarchical based on amounts/ Capex and Revenue purchases having separate approvals etc.)
RTW needed Solutions
CargoWise One (CW1) Implementation
A TDS Report was customized when VGM Filings are completed on the carrier website
Shipping and Carrier Booking Instructions
Exchange rate Integration through API to push the rates directly into CargoWise One twice daily.
Full Credit control functions on Forwarding Module
CargoSphere – Rate Management software (No integration needed)
CargoWise Training and Support (Helpdesk)
BI Project Report
The results speak for itself
Company started operating from one system resulting in
Created visibility for staff
Created visibility for clients
This is why CargoWise One was their initial solution

Integrations
Optimised Business Operations and Tasks by 80% due to information flowing into CargoWise One from one window to another.
Reduction of data entry tasks and errors
Improved Deliverables
Increased Service Levels
Reduced E-mail communication between internal staff
Tax Compliant
reducing risk of penalties and fines imposed to the business
Operational efficiency in rate management to
Improve Business growth
Create a Digital Sales Process
Reduce mundane tasks
Shipping instructions and carrier bookings come with certain costs involved due to the risk posed because of probable errors. Therefore, forwarding businesses are usually resistant to this undertaking. At SFL, we took that risk and convinced the client by assuring them that if there is any penalty then we will take care of it.
Credit Control securities in the Forwarding Module assisted the Finance Department to reduce risk of bad debts.
Credit notes to be approved by the Finance Manager prior to posting to ensure shipments are not under-recovered.
DRO Approval Process ensures that goods are only released to the Transporter once all relevant documents/conditions are in place such as: –
Original HBL (if required)
Proof of payment
Receipt posted in cash book
No overdue invoices on account
Account not on hold for any other reasons

Reshaping the Future with Platinum Service Partners
It is very often that we overlook the most obvious barriers to keep the operations of the business going. The Logistics Industry most often ties down every second due to the many tasks and deliverables involved of moving cargo from first mile to last mile delivery.
The customer had implemented the single-platform logistics solution, CargoWise, to standardize systems and databases, while allowing for a transparent and automated exchange of information with clients and partners.
While there were a few security concerns to consider when implementing a new ERP system, the advantages far outweighed the concerns. A safe and secure ERP system with high levels of data consistency can help you to make your business even more secure, ensuring your staff and clients' peace of mind.
Do you know the good old saying "You only as strong as your next move"? Global Rollout strategy could be a one-stop solution for all these challenges if you are in the pursuit of growth beyond boundaries. RTW knew to have a successful Global Rollout for their CargoWise One Implementation, they would need a service provider that is credible, has a good track record of implementations and integrations and knowledge of the supply chain industry to optimize operations before automations and the resources to get them to Go-Live within the allocated timeframe.
It was obvious that choosing SFL as their service provider would give them the access to a range of Digital Tools, up to date resources, essential CargoWise Staff Training, and peace of mind to utilize an unknown system.
Future Developments with SFL:
Let The Numbers Do the Talking
Using an estimated value of 500 shipments monthly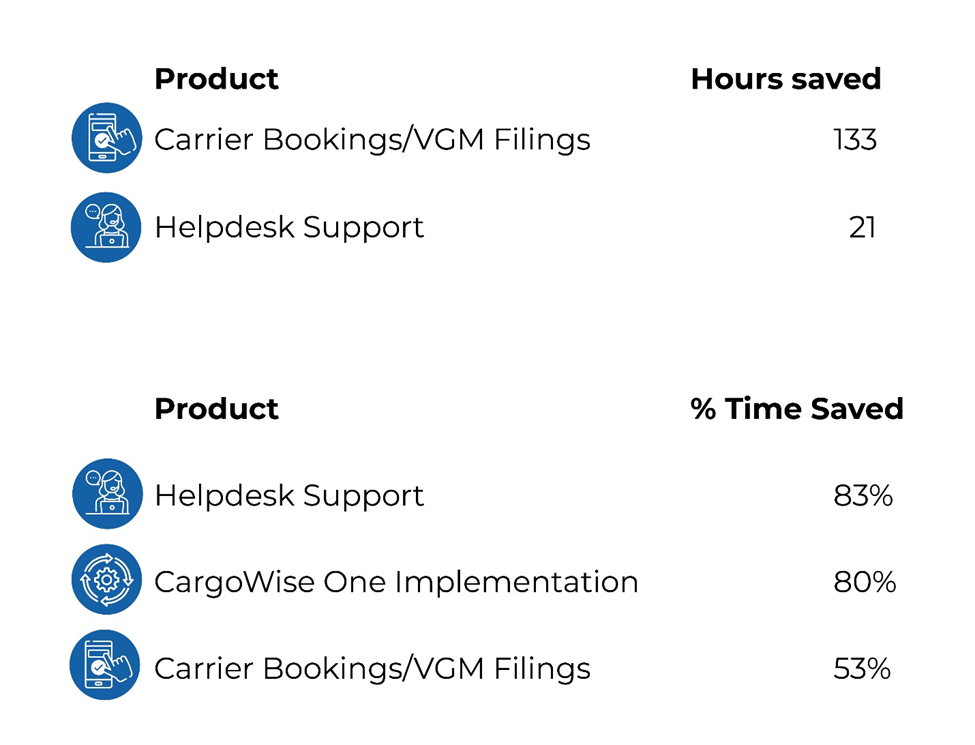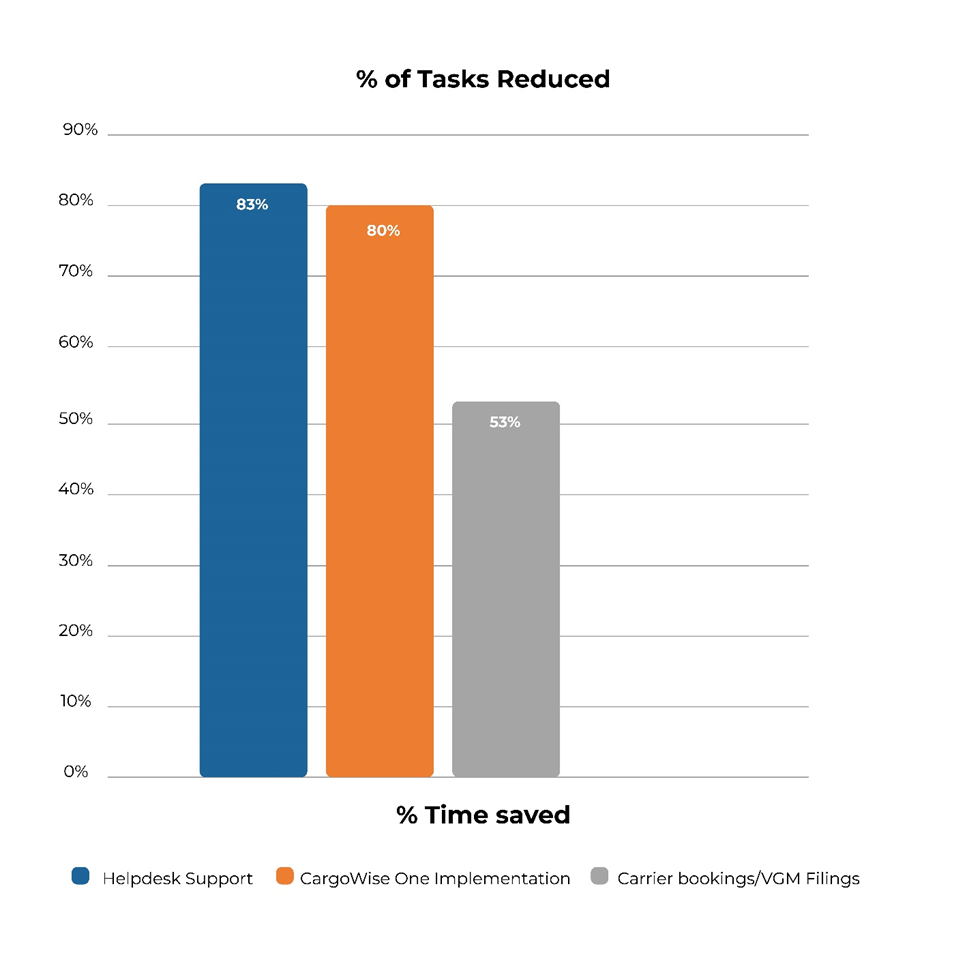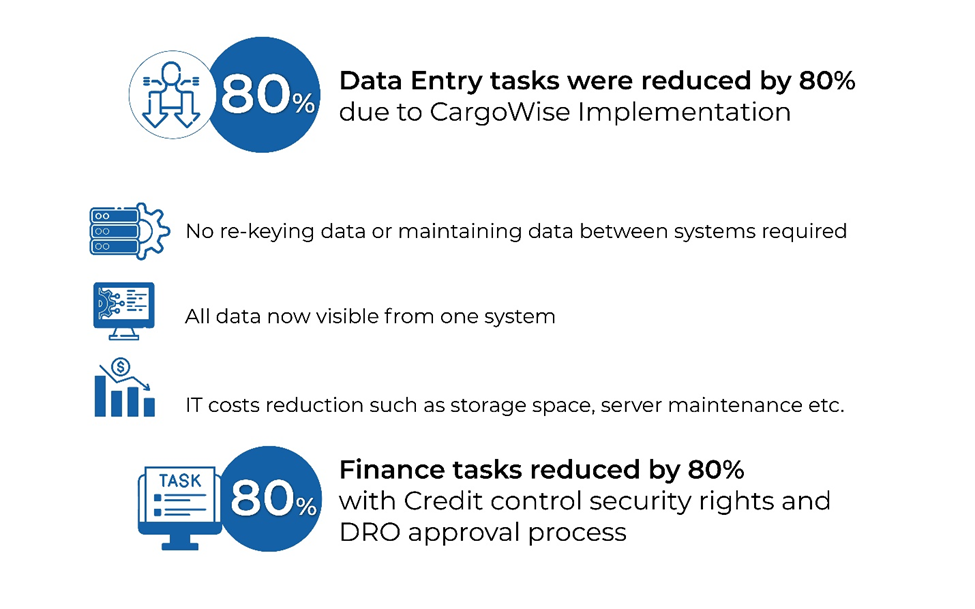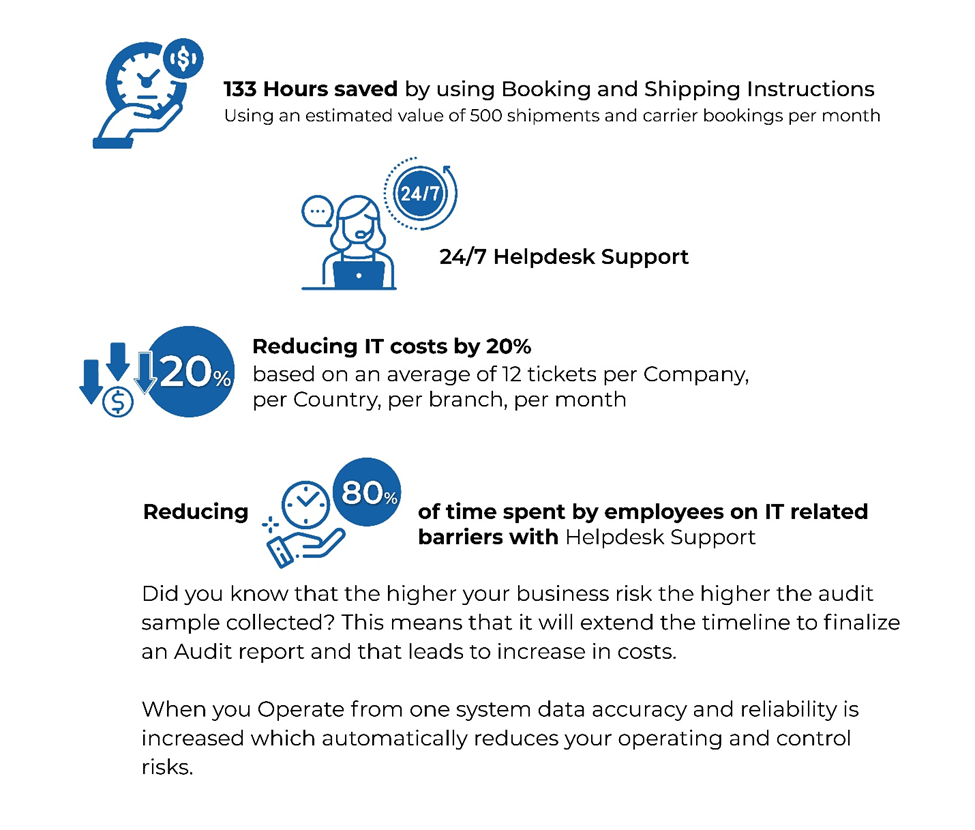 Contact us today at connectwithus@softfreightlogic.com or book a free consult now to discover how you can reduce your data entry tasks and optimise your operations.