It is an absolute need that Logistics companies become more automated. Choosing the right software for your business is the 1st step but have you checked all the boxes that are unique to your business needs:
What does your business specialise in?
Choose an ERP system that will tick all your boxes and can be customised to suit your business's UNIQUE needs.
CargoWise One is designed to assist different types of logistic providers as demonstrated below.
Small to large enterprises have taken the plunge to use this system. Read to find out if this is the right fit for your organisation.
https://enlyft.com/tech/products/cargowise-one

ENLYFT did a study on around 75 to 78 Companies that use CW1, and the use distribution of the study reveals its fit across all three sizes of organisations (small, medium and large)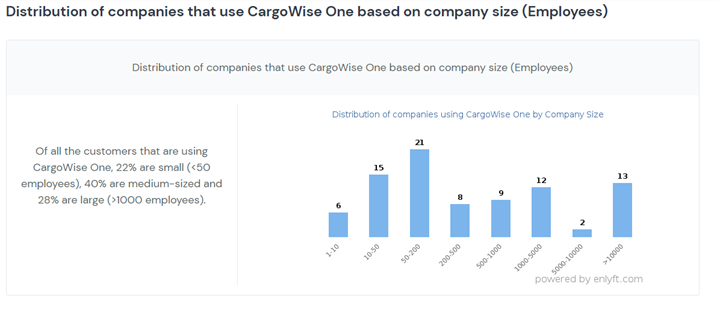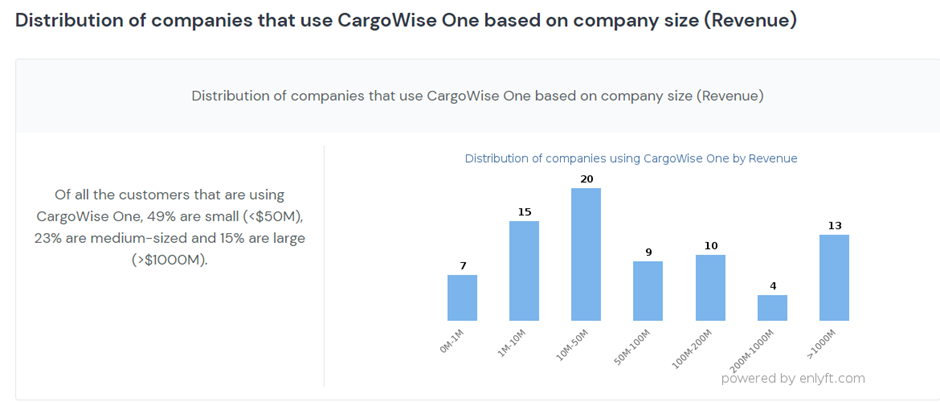 Wisetech CargoWise One customer base

A review of Tech Republic article 7 steps to choosing the right ERP software , demonstrates how Soft Freight Logic and CargoWise One has ticked all the boxes and has created digital tools to fill in the gaps.
---
Your One Stop Digital Logistics Enabler
So, what's the best way to find the ERP solution that's going to be the best fit for your logistics organization?

Here are seven steps as mentioned in the article to help you choose the right software for your organization:
Conduct a process review and analysis. Since ERP is primarily a business initiative, you should first define and document your current business processes, pain points, and strengths. This analysis should also include what you think your processes should look like in the future (your "to-be" state) and the corresponding business requirements. These processes and requirements should eventually be used for potential software vendors to demonstrate their product's capabilities within the context of your business needs.
Looking into your business internal processes is vitally important before you decide to change your ERP system.
Simplify your processes beforehand because you don't want to automate incorrect processes.
SFL's experienced consultants utilise their extensive logistics backgrounds to easily identify pain points in the business, and offer solutions that can benefit both the business and their employees.
CargoWise One was designed for multiple players in the supply chain and logistics industry and over the last 5 years, SFL has worked with a range of Logistics providers across this spectrum.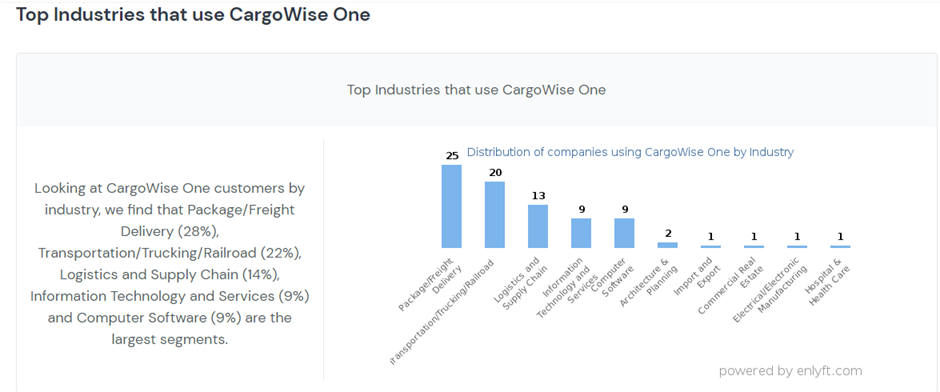 SFL offers a free consultation to go through your questions before making the important decision to change your ERP.
Contact us today at connectwithus@softfreightlogic.com and let us show you the digital and automation tools that will keep you ahead of the game.
2. Evaluate the technical fit. Although ERP should be a business rather than a technology initiative, it's also important to understand how a potential software solution will align with your current infrastructure. For example, if you're a Microsoft shop, you're likely to find a better technical fit with ERP software products built on a .NET platform
The great thing about CargoWise is its compatibility and integration features.
A software that is dedicated to the Logistics industry; Wisetech has already spent enough development hours to configure a system that can cater to your unique needs.
SFL, a Platinum Wisetech Service Partner, offers services such as Consulting, Implementation and Training and Integration services to their clients.
CargoWise One's range of modules enables the customer to work off one operating system and eliminates the need for silos. Modules available are:
Finance
Sales
Operations
Marketing
Brokerage
Warehousing
Transport
There are also various options available should you want to work of multiple systems.
For example, some companies process their customs clearance submissions through a different system or their purchase orders is different from their ERP system. With SFL Integrations capabilities, you can pull information from another system into your ERP system without double – data entry.

SFL's platinum Integrations qualification ensures data can be pushed from any system into CW1 and vice versa – with services such as:

BPO (to capture buy rates, sell rates, update exchange rates, creation of shipment files) using RPA so clients don't have to invest in software upgrades and maintenance fees and our BPO team does the work in record time).
CargoDoc – a Digital Virtual Assistant to capture your vendor or commercial invoices into CW1, or line to line extraction of commercial invoices for accurate, timely submissions. Automated capturing of the BOL to create Import and Export shipments to increase the service levels of customers. To be able to provide your clients with real time status notifications or reduction in their freight rates. To capture correct HS codes as per commercial invoice so that the duty rates are correct and in turn wont affect my landside charges.
SFL Connect – a middleware solution for you and your business.
SFL Gateway – a learning resource, project planning, project status tracking and 24/7 support service.
SFL Insights – to be able to give exceptional customer service and real time data visibility.
The thing about business is quotes don't get you sales – it's the relationship and trust building with your client that gets you what you want. Let your customer get their own quote by using SFL Insights or the web-tracker and use that time to build relationships and secure that deal with confidence.
3. Understand the total cost of ownership. During the sales cycle, ERP software sales reps are interested in downplaying the costs and risks associated with purchasing their software. However, it's a lot easier to accept potential costs early in the process rather than after you're already committed to a particular solution. Be sure to uncover "hidden costs" associated with ERP, including implementation costs, hardware upgrades, backfilling your project team resources, software maintenance, etc.
Pricing in any business is important – it's what drives businesses ultimately to make strategic business decisions.
SFL has created a pricing calculator for all services and products we have an offer.
You can view this at any time https://gateway.softfreightlogic.com/calculator
no hidden costs – just a smarter, easier way to give our clients a seamless customer journey. With the breakdown of tasks for each project and timeline specified can allow you the customer to evaluate your total cost and build your pricing as per your need.
4. Develop a realistic implementation plan. While you're still in the sales cycle, you should take vendor implementation duration estimates with a grain of salt. It's important to develop a comprehensive project plan that includes not just the activities required to install the software, but the ones that are required to ensure that the solution is fully functional, tested, and accepted by end-users. This plan should be developed prior to your final software decision so you fully understand the cost and resource commitments required to make the project a success. Your implementation project plan should include everything from business process and workflow design to data migration, conference room pilot, multiple test iterations, and key organizational change management activities.
At SFL, as per above in number 4, our pricing calculator is transparent and gives a total breakdown of hours required to complete a project.
With a breakdown of both online and offline hours, you will gain an understanding of how many hours will be required in the implementation and testing of a project.
We allow our clients to track their online hours with us, should all online hours not be used, a credit can be issued after completion of project, or alternatively we can use those extra hours for post go – live support or future projects.
Our consultants will also help with creating an implementation plan with you so your business processes and workflows can be mapped for greater system usage.
5. Track the potential business benefits of the new system. If you don't measure it, you likely won't achieve it. ERP projects are no different. Chances are your organization is looking at ERP as a way to reduce costs, increase revenue, or scale for growth, and you should estimate and measure benefits against these metrics if you are going to realize the full potential of ERP.
SFL believes that Digitalisation and Automation is an investment. Like any investment before you dive into it, you must research it and understand your return on investment.
Read our blog article: How to achieve a HIGH ROI on your software or book a consult https://softfreightlogic.com/ and speak to one of our consultants who will gladly calculate your return on investment when using CW1 and SFL.
6. Keep your options open. While this may sound more like dating advice, it's also relevant to choosing an ERP package. Contrary to common belief, there are more than just two to three primary ERP software vendors. Although two to three software vendors constitute a majority of market share and marketing dollars, there are at least 70 viable ERP software solutions in the market, all with varying degrees of functionality and strengths. Too many companies choose a solution based on brand name or based on what competitors are doing. Instead, organizations need to consider the options that are going to best meet their unique business requirements and sources of competitive advantage.
It's great to keep your options open and look at the Pro's and Con's of each ERP software. Wisetech offers a free trial period to their customers before billing them. This creates a transparent foundation to make the right informed decision.
7. Look for objective and independent advice. Ask colleagues, employees, and other contacts what they use or recommend for a company like yours. Conduct research on the internet or hire an ERP consultant if necessary. In any case, don't assume you have all the answers if you don't have experience with ERP. Find other sources of independent ERP advice to validate what you're hearing from software sales reps.
CAGR stands for compound annual growth rate and is a representational measure of growth of an investment. To put it in simple terms, it represents the growth rate that gets you from the present value to the future value in the specified time period and takes into account for compounding.
The digitization in logistics supply chain market expected to grow from US$ 13336.57 million in 2020 to US$ 23607.06 million by 2027; it is estimated to grow at a CAGR of 8.5% from 2020 to 2027.
Digitalisation will lead to an improvement in the functional parameters of freight operations and provide data-driven insights into port management. It has the potential to facilitate the creation of a sustainable and streamlined supply chain management.
Contact us today at SFL for a free consultation to get you started connectwithus@softfreightlogic.com