Seamless Support for CargoWise Users: Empowering Supply Chain Management Companies through Helpdesk
WiseTech Global's CargoWise allows freight forwarders to consolidate their operations through a single system, unlocking productivity, whilst eliminating redundant workflows and overlaps.  
However, this platform that is rich in features, and a wide range of functions can be overwhelming for users, according to our research, clients of CargoWise One, utilize only 30-50% of this powerhouse; and in order to fully leverage the potential benefits of CargoWise, users need to have a deep understanding of the system and its features, which is where the essence of support comes in.
As Platinum accredited service partners of CargoWise One, through our years of consultancy services, we understand the need to develop internal competencies of the technical aspects of CargoWise, and guidance to operate their logistics business with confidence and efficiency. 
Through SFL Helpdesk, users can get assistance in setting up, operating and customizing their deployment to meet their specific business needs. We address varying degrees of escalations with quick turnaround times and resolutions, minimising the impact on your business.
In 2022, we resolved 10,800 tickets
Last year, our team received 10,800 helpdesk tickets from clients who needed assistance with CargoWise usage. When we analyzed all those tickets, we identified the top four most common reasons businesses reach out to us for support.
Free audit support was available 24/7
We helped businesses review their processes and systems and provided direction through audit support on the challenges and issues they needed to maximize efficiency on.

Customer service support for incorporating the latest CargoWise updates and information was available
Supply chain management businesses need to be constantly upgrading to remain relevant. We enabled super users to update and apply changes as and when CargoWise does so.

Custom Training for using different modules of CargoWise was available
We offered customized training and support through offline and online channels, which enabled clients to diversify their expertise and expand to new verticals.

Domain knowledge on producing documents and invoices was available
We worked closely with our clients and identified their knowledge gaps. Our team provided the necessary support to address these gaps and ensure they had the knowledge needed to train their staff.
What is Helpdesk?
To ensure that our clients who use CargoWise don't miss out on the game-changing benefits that this software can provide, we developed a ticketing portal to assist your business in the technical areas of CargoWise and to help mitigate any issues that you may have!
It functions as a 24/7 remote assistant that offers guided, domain support in all CargoWise One modules.
How does Helpdesk work?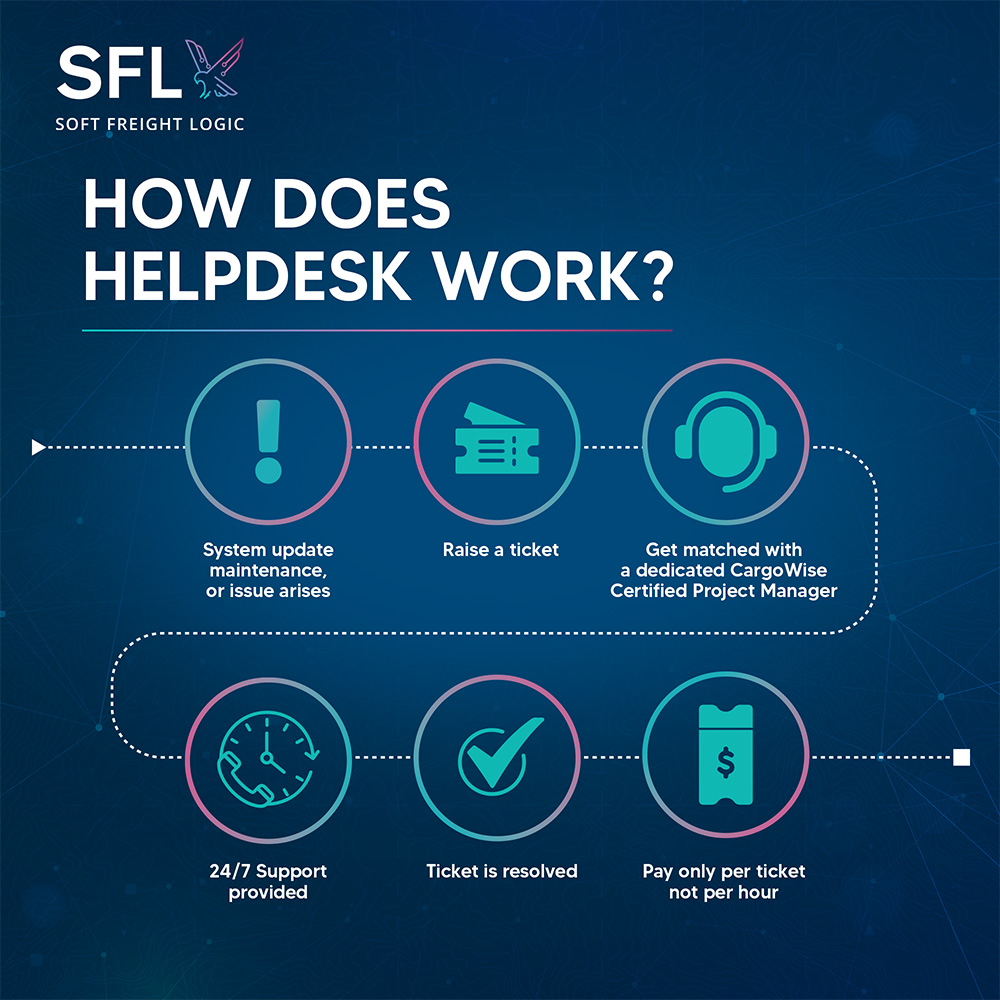 Helpdesk covers: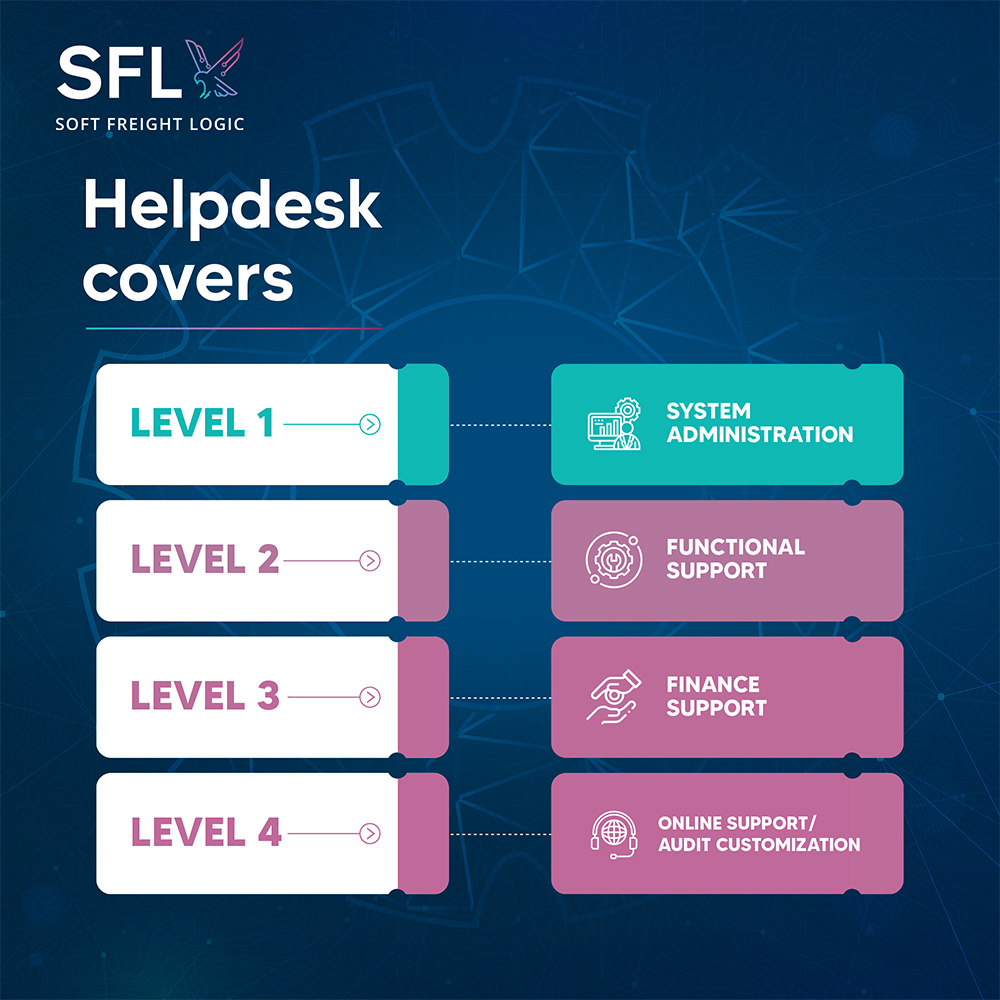 When it comes to Helpdesk Support, there are different levels of assistance available that have been designed to provide support for different aspects of your CargoWise system.
Level 1: System administration support
This level of support is focused on addressing technical issues related to the overall functioning of your system. This may include issues such as:
Master Data Support
CW1 Login issues
New User ID Creation
Report Schedules
Other technical issues that may require troubleshooting or maintenance.
Level 2: Functional support
This is geared towards resolving operational issues related to the functionality of specific software applications or systems. This may include issues in:
Custom Field Creation
Notifications
Advanced Wizard Support
Carrier messaging etc.
Level 3: Finance support
This level is specifically designed to address issues related to financial systems or processes. This may include anything that requires special expertise in Finance, such as:
AR/AP/Cashbooks
General ledger
Collection calls
Tax Rules
Charge Codes etc.
Level 4: Audit, Customization, and Online support
This level is more advanced and includes resolving tasks such as:
Revenue Recognition
Bank Reconciliation
Profit and Loss
Document Customization etc.
Tiers of Helpdesk
To ensure that you can utilize Helpdesk to suit your business needs, we have three tiers of support tickets available.
Tier 1: Includes 3 x level 1-3 tickets and 1 x level 4 ticket
Tier 2: Includes 8 x level 1-3 tickets and 2 x level 4 tickets
Tier 3: Includes 14 x level 1-3 tickets and 4 x level 4 tickets along with a free Gap Analysis
Perks of subscribing to Helpdesk:
We're excited to share with you some of the key benefits you'll receive when you sign up for this service:
A free audit of a CargoWise module of your choice upon subscribing to the monthly plan.
24/7 live support based on your operating time zone.
Service level agreements to ensure prompt turn-around times.
Internal CargoWise Super users can focus on process optimization and new features released by CargoWise.
CargoWise certified project managers are available based on your requirements to deliver domain expertise.
All unutilized tickets can be converted into a project automation or training of equal value.
In addition to these benefits, leveraging Helpdesk support can help you:
Take maximum advantage of your CargoWise deployment.
Deploy your resources efficiently towards customer and business growth.
Leverage our expertise for resolving issues and supporting your team.
We are 24×7 across time zones, freeing up your IT team to focus on other aspects of your business.
What happens if we do not utilize all the tickets per month in our package?
All un-utilized tickets can be converted into a project automation or training of equal value.
A brief overview of how Helpdesk has transformed our client companies:
1. RTW
Challenges: RTW USA is a logistics provider that offers clients freight services, customs brokerage, trucking, and warehousing. With sixteen prime locations and 400 staff across the globe, RTW's Legacy system was Forwarding focused only. The company had disparate systems for:
Forwarding
AMS
Import and Export Declarations
Warehousing
Transportation
With a workforce of 400 staff, the company naturally faced challenges around Best Business Processes and Problem-Solving Solutions.
For example,
Multiple systems used by multiple users across the organization was resulting in:
Unreliable and Incomplete Data
Data Inaccuracy
Duplication of tasks
Unsatisfactory Service Levels
Employee Dissatisfaction
Loss of revenue
Loss of customer retention
TDS Non-Compliance
Increase in IT costs
Stuck in Local Behavior
Productivity Lagging
Teams were operating in Silos
The results
After the SFL team deployed the CargoWise One Implementation, Integrations, Data Entry Automation, and Visibility Solutions, we upgraded support to include Helpdesk. Ever since then, the company has started operating from one system resulting in visibility for staff and visibility for clients.

24/7 Helpdesk support enabled RTW to:
Reduce IT costs by 20% (based on an average of 12 tickets per company, per branch, per month)
Reduce 80% of time spent by employees on IT related barriers
2. RIF
Challenges: Client was not fully satisfied with their expectations from their service provider in terms of the VAT and TAX setups on their system. VAT was being charged inaccurately to customers and this opened the business to higher risk.
Loss of revenue
Unsatisfactory customer service
Fines and penalties
Inaccurate billing
Incorrect tax submissions
Under Utilization of CargoWise One System automation
After the gap analysis was performed, a six-month project plan was then blueprinted to facilitate the below automations to meet the businesses highest value requirements: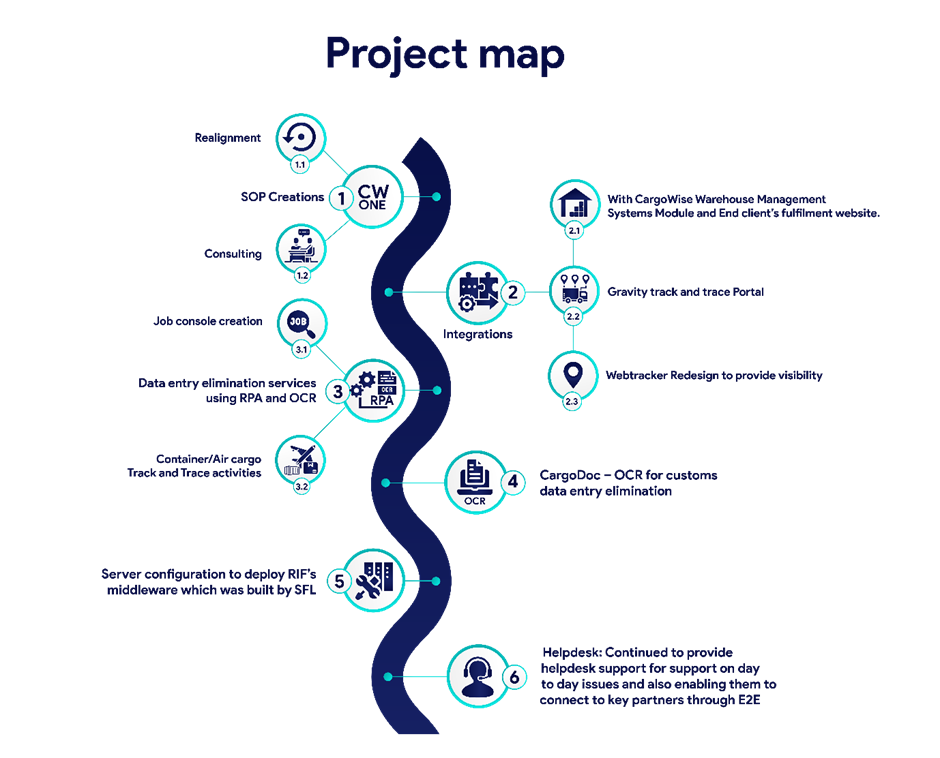 Results:
60% of IT Development costs reduced through Helpdesk Support
65 hours were spent by the team monthly to ensure no roadblocks stop operations
Data entry tasks reduced by Eighty Five Percent (85%)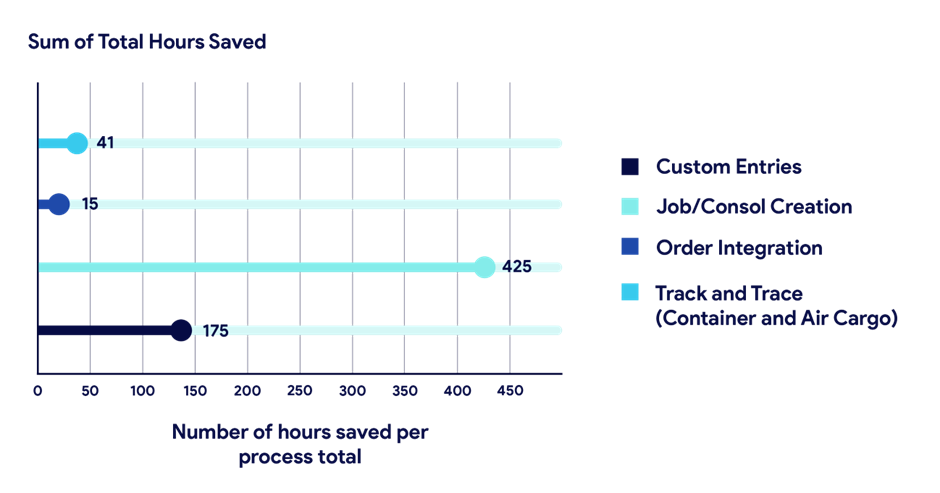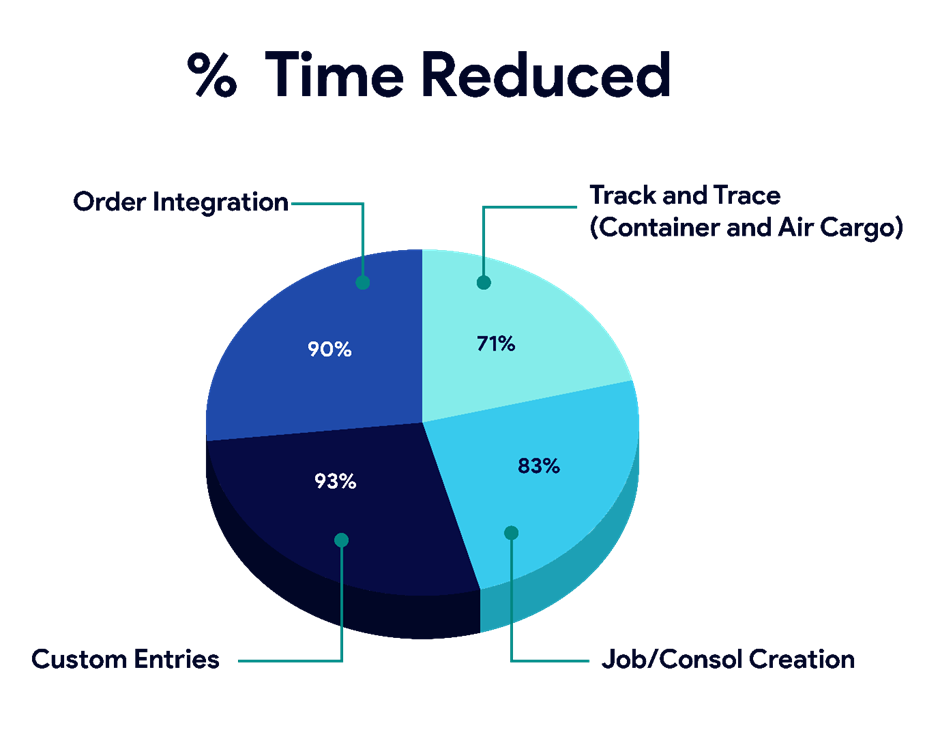 Read more about how RIF and RTW benefitted from using Helpdesk.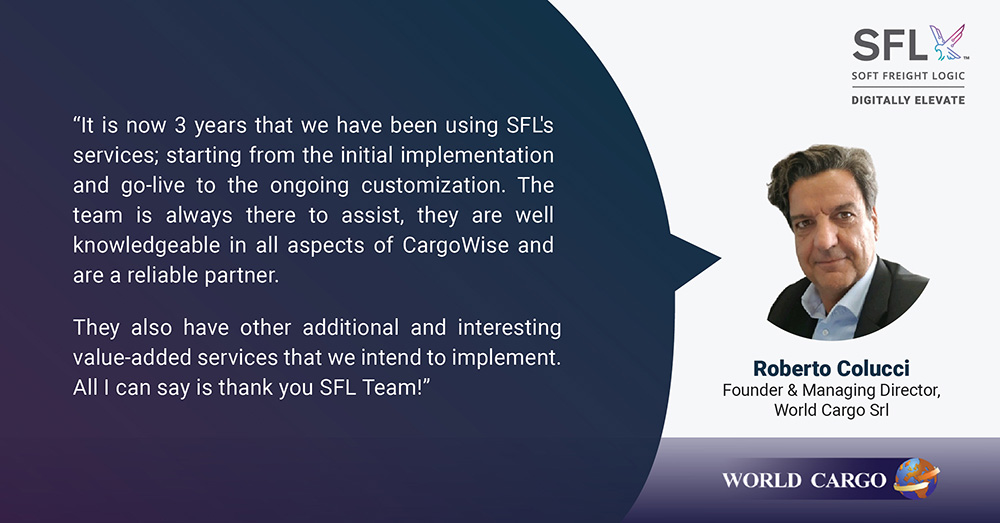 In this following video, our Director of Digital Adoption, Imrah Chizyuka, sheds light on how support greatly enhances the efficiency and effectiveness of logistics operations.
To learn more about our Helpdesk support, download our brochure here or feel free to get in touch with us here. We would be more than happy to discuss your specific needs and provide you with a tailored solution that meets your requirements.