SFL Hub Technologies is responsible for the Software Development and Integrations with our Cargowise One customers. After an extensive audit process we have been certified with an ISO 9001:2015 certificate.
What is ISO 9001?
ISO 9001 is an international standard on quality management system that shows the ability of an organization to consistently provide quality products and services that meet the requirements of customers.
Using ISO 9001:2015 helps ensure that customers get consistent, good quality products and services, which in turn brings many business benefits.

International Organization for Standardization
What does this mean to SFL HUB?
Improved customer satisfaction and loyalty
Happier and more competent employees
Better quality products and services
Increased efficiency, fewer mistakes, and less wasted time
Reduced overall risks
A happy, engaged, well-trained and competent workforce is a productive workforce. Employee satisfaction is a major benefit of ISO 9001.
What does this mean for our clients?
This means that as a company we are dedicated to providing the best solutions and customer service to our clients.
The standard requires that our organization not only determines if our customer requirements have been met but also monitors our customers subjective perception of it.
This almost inevitably ensures that a properly implemented quality management system will deliver customer satisfaction.
The importance of meeting – and indeed exceeding – customer expectations can't be overstated.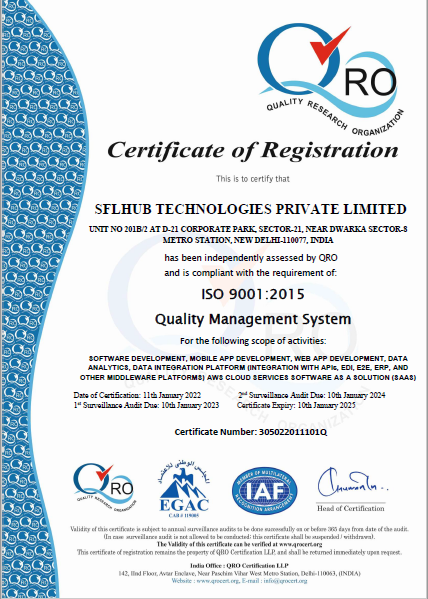 Visit the SFL HUB Tech website for more information on how we can transform your business.
What we say is what we do – Here's the proof!!!