Future of work and HR's role
For the logistics industry, 2022 has brought more trouble. Russia's invasion of Ukraine and the lockdowns in China have added to supply chain woes and labour shortages. The predictions do not look good.
American Trucking Associations (ATA) predict the current trucker shortage would double by 2030. United Kingdom's logistics sector is predicted to have a labour shortage of 400,000 by 2026.
"Our research demonstrates the undeniable fact that low salaries, unattractive or inflexible working conditions and a general lack of respect for these critical jobs is having a catastrophic impact on the ability of employers to fill these roles."
Kirstie Donnelly, CEO, City & Guilds
The traditional HR role limited to admin, hiring, and firing was already in debate when Covid-19 stuck. The abrupt shift to remote work created a need for a new way of leading and managing. The logistics industry saw an 18.5X increase in remote roles in 2021.
While there had been a lot of discussions on "putting the H back in HR" and "strategic HR", for many years, most companies were not ready. The existing HR technology and ethos kept companies functioning. But they were not enough to stop The Great Resignation.
Industries across the board saw employees leaving jobs at record rates. According to Pew Research Center, low pay, no opportunities for growth, and disrespect were the three key reasons.
Old fashioned HR is not working. But human resources will play a crucial role in attracting and retaining talent in the new world of work. It is first necessary to explore what the future holds and then decide what HR and HR technology need to do to adapt.
What will be the future of work?
Here are some of the key features of the emerging future of work.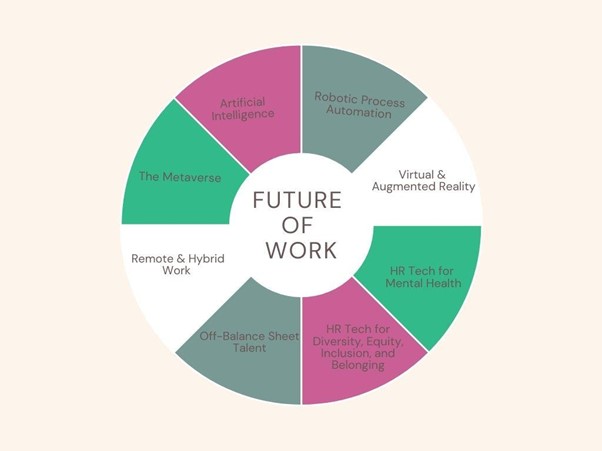 Tech:Artificial intelligence (AI) and Robotic Process Automation (RPO) will eliminate many jobs. Automation will also remove admin and data entry tasks in other jobs. Investment in digital transformation and remote working technologies will keep increasing. Technologies like the metaverse that is novel today would become commonplace.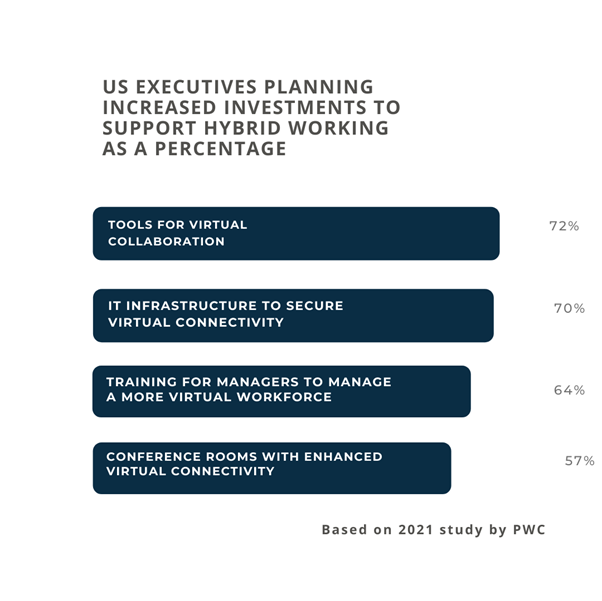 ---
Remote and hybrid working will be the norm in most industries. Off-balance sheet talent will also increase. 80% of large American corporations plan to expand their contingent workforce over the next 10 years.
Leadership: The search and retaining of talent will become a top priority for leaders indefinitely. Recruiting talent for both blue-collar and white-collar positions will remain a challenge for the C-Suite.
Most blue-collar wages have a high-turnover assumption baked in. This attracts low loyalty talent which in turn makes companies reluctant to invest in training and advancement. Not investing in training and no opportunity to advance makes people job hop – a vicious cycle.
With the boom in freelancing and contract work, the white-collar talent now has a chance at greater autonomy and flexibility. Almost all emerging and developed markets have skyrocketing new freelance growth – some as high as 208%.
Human resources will establish itself as a key position in the C-suite in navigating these troubled waters. Employers will also play an important role in employee well-being to retain talent. They will provide mental health support, enhanced sick leave, childcare support and more.
Leaders will also have to upskill themselves in the coming era. Some key skills for leaders include
Empathy

Future career planning and upskilling of staff
HR paradigm shifts necessary for the future of work
Human resources departments have long had to work by policies and processes that emphasised productivity. While productivity is important, remote and hybrid work demands more dynamic and people-friendly ways.
Visionary leadership precedes digital transformation. It is necessary to re-evaluate the current role of HR before innovative technology can be used.
Further research by McKinsey shows that HR leaders think the following changes are necessary for the future of work HR operations.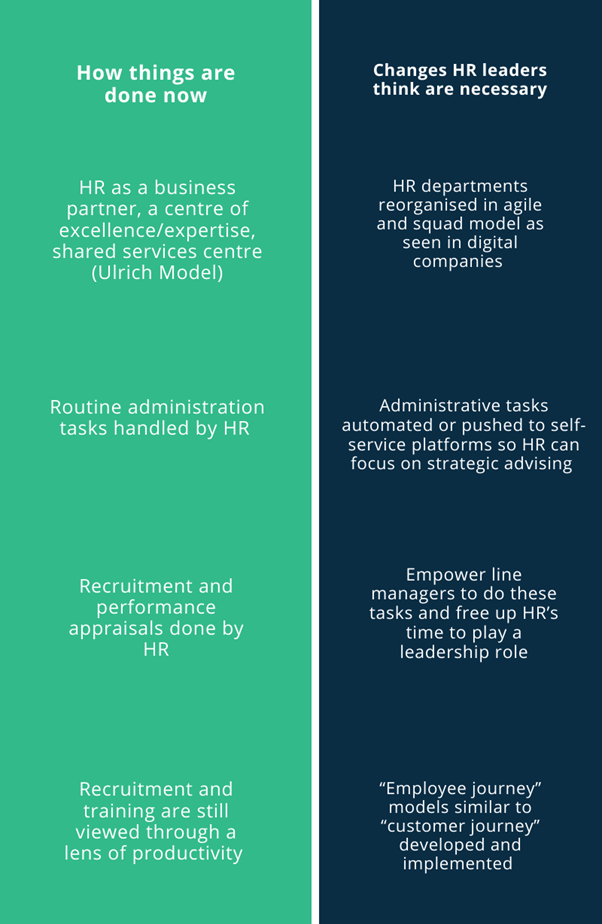 Dennis Theodorou, Managing Director at JMJ Phillip Executive Search, commented on what he sees in recruitment in top logistics firms right now.
"Considering the current state of the world, the logistics industry is probably hurting as much, if not more, than other industries because of supply chain issues across the globe.
Considering the supply shortages, backlogs, the labour shortage – the focus for everyone right now is to just keep looking for good employees, those who are long-tenured, enjoy the job, and possess the right mentality to do the job.
Working with clients who are in the logistics industry, many companies are implementing software that makes it easier to find truck drivers, which is one of the key areas to address at the moment."
He went on to stress the importance of good onboarding of new hires.
"The industry is so dynamic, and companies are tackling so many issues at the same time. This means that oftentimes the talent leaders at these companies may not have the time to do a proper onboarding, which provides a negative impact on the new hire (and a greater negative impact on the industry at the employer brand level).

The way to stand out nowadays is to keep trying to find ways to be better than the rest – and the onboarding process is a great place to start."
Why should logistics leaders care about HR Tech
Logistics companies have struggled with shifting to hybrid and remote work. It has not been easy to keep track of timelines and exceptions in project milestones while working remotely. The high volume of information exchanged also presented a unique challenge. The labour shortages and supply chain issues have exacerbated the problem.
In the last 24 months, freight forwarders were racing to book space on vessels to confirm their bookings and retain their customers. The environment is so volatile now that even such competitors need to come together. The industry needs to collaborate and streamline global processes to succeed.
HR technology can help with these issues. It can be used for
Simplifying Standard Procedures across the board to get rid of some of the supply chain challenges
Communicating and offering support to your employees who have been under a lot of stress
Hiring talent from across the globe. This gives you access to unique talent that otherwise may be inaccessible if you were to only work with local hires.
That in turn can bring in a treasure trove of new ideas and innovative practices for business success.
---
HR Tech developments and future of work
I also want more reference to the logistics companies and their pain points on moving to Hybrid and how the labour shortage in the supply chain can allow HR technologies to employ people from all over the world bringing diversity and new talent in the business.
During the pandemic, technologies such as Slack and Zoom allowed companies to switch to remote work. However, the pandemic also exposed some of the limitations of the existing technology.
Many employees experienced disengagement and disconnection during the pandemic work from home. The same technology that facilitated remote work had a hand in these – zoom fatigue and other such issues.
There were also concerns about addressing mental health issues of employees as depression and anxiety increased by 25%, according to the World Health Organisation (WHO).
The year 2020 was also a year of conversations about social justice. Companies found it was important to take a stand on social issues and implement internal changes.
HR tech has rapidly evolved to meet these needs of the market. It has already aligned with the vision HR leaders and employees have in mind.
65% have talked about their mental health to someone at work during the year. Only 49% got a supportive response. Empathetic leadership is necessary to address mental health issues at work.
HRTech marketer Dorota Lysienia commented weighted in with her views on how technology can help companies solve mental health issues at work.
"Mental health problems like burnout or depression are tricky because they often come out of nowhere. People perform their tasks, meet their deadlines, and one day they can't get out of bed. However, it's not about being tired or wanting to sleep in a bit longer.

HRTech marketer Dorota Lysienia
It is a burden a person can no longer deal with and sees no chance for improvement. It might start with something as simple as avoiding social interactions or take more severe forms such as continuous disengagement and high irritability.
If your organisation uses HRTech for managing employee data, you can spot some alarming signs in your employee behaviour ahead of time. You can use your absence management software to track the absences of your staff.
For example, if you see the absence patterns of some of your team members, you can try to find out what is the reason behind it and apply measures that can support them.
The HRTech won't replace effective solutions to help your employees go through a crisis, but it can be a first step in recognizing the problem and taking action to resolve it."
HR tech for mental health has evolved in the form of,
Wearables and digital biomarker apps that assess well-being and suggest next steps. Employers only see anonymised aggregated data, not personal information.

Analytic tools that alert individuals and team leaders about high levels of stress and time-offs necessary

Mindfulness and self-help apps

Prevention chatbots and therapy apps
Engagement & connectivity: Remote work can make people feel isolated and disengaged. Virtual Reality (VR), Augmented Reality (AR), and metaverses can improve employee engagement. These technologies provide dynamic experiences that are hard to distinguish from real life.
While it is still new technology, there is an opportunity to use them in
As the access to VR and AR headsets increases, we may see more companies using this. Companies like Accenture and Bank of America are already rolling out headsets for their employees.
Over 76% of American employees reported diversity was an important factor when choosing a job. Among Gen-Z, almost one in three would pass a job due to diversity and inclusion issues. Therefore, DEIB would be an important consideration for HR in the future.
DEIB technology uses analytics to drive organisational and personal accountability in the workplace. It can help to
Alert management about structural biases the company may have
Ensure equal access to opportunities within the organisation
Allow objective decision-making
Start preparing for the future of work today
If your HR department is still not ready for the future of work, it is high time. Companies that are not ready for the age of remote and hybrid work are already losing out on talent.
A good first step to getting ready is to implement CargoWise Enterprise ERP with SFL. It automates manual and repetitive tasks, the first step in freeing up time for HR. It also has many features to help with recruiting, onboarding, and accrediting your employees.
It helps you to move towards the future where people value diversity and environmental friendliness in corporations. CargoWise is a completely paperless HR tool and allows collaboration among employees across the globe.
Book a discovery call today to find out how SFL can help your company get ready for the future of work.